Lucic-Baroni Stuns Halep Once Again as Sharapova, Federer Win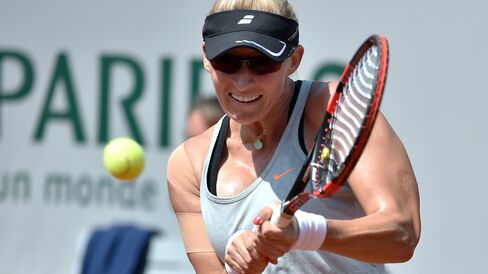 Mirjana Lucic-Baroni pulled off the biggest upset so far at the French Open by ousting Simona Halep, the third seed and runner-up last year.
The 70th-ranked Croatian won 7-5, 6-1 to set up a third-round contest with Alize Cornet, the 29th seed from host nation France. Halep also lost to Lucic-Baroni in their only previous encounter, in the fourth round of the U.S. Open last year. Also today, defending champion Maria Sharapova and Roger Federer reached the third round.
"As long as my body allows me to, I'm going to keep fighting and keep playing," Lucic-Baroni, 33, said in a news conference. "It's moments like this that are just so amazing -- full court, against one of the best players in the world, and winning. It doesn't get better than this."
Former teen prodigy Lucic-Baroni was one of the rising stars of the women's tour in the late 1990s before her career stalled because of injuries and personal problems. Today against Halep, she fired off 29 winners while the Romanian managed five.
"I did everything I could," Halep said. "I couldn't do something more than I did."
Lucic-Baroni arrived at last year's U.S. Open as a qualifier on an eight-match losing streak. Her victory in New York against Halep was her first against a top-five player since she beat Monica Seles at Wimbledon in 1999.
Restraining Order
One of the hardest hitters on the women's tour in the 1990s, Lucic-Baroni won the first event she played, as a 15-year-old, the 1997 Croatian Open. The next year, she became the youngest player in history to successfully defend a title. In 1999, it took former top-ranked Steffi Graf to stop her run to the Wimbledon semifinals.
Having peaked at No. 32 in the rankings, Lucic-Baroni's career stalled by the age of 20 amid claims of domestic abuse involving her father, Marinko, and injuries. According to a 1998 New York Times report, Lucic-Baroni, her mother and four siblings fled to the U.S. from Croatia and sought a restraining order against Marinko.
Lucic-Baroni, who returned to the tour five years ago, said she doesn't expect much support from the crowd at Roland Garros in Paris against Cornet.
"I hope at least three people will cheer for me," she said.
'Tough Opponent'
Second-seeded Sharapova defeated fellow Russian Vitalia Diatchenko 6-3, 6-1 on a sunny day on the main Court Philippe Chatrier to set up a third-round meeting with former U.S. Open winner Sam Stosur.
"She's always a tough opponent," Sharapova said in a news conference about Stosur. "She enjoys playing on clay, benefits a lot from this surface."
Stosur dropped one game against France's Amandine Hesse. The Australian, the runner-up in Paris in 2010, is one of the few women who uses a powerful kick serve -- a high-bouncing served delivered with top spin.
"She has a very heavy ball, and on clay specifically it just really penetrates through the court," Sharapova said. "She has one of the best kick serves in the game. She's really able to put that power into it and kick. She slices a lot. There are a lot of untraditional things that she does."
Sharapova, who frequently used the drop shot to surprise Diatchenko, has lost two of 16 matches against Stosur and defeated the Australian in their last meeting, in the fourth round at Roland Garros last year.
'Big Challenge'
"Maria is always a big challenge for me," said Stosur, who came close to winning in straight sets at the French Open last year before Sharapova fought back to take the decider. "She fights from the first point to the last point, doesn't give much away, and when her back is against the wall she keeps swinging and going forward."
Federer, the 2009 French Open champion from Switzerland, defeated Spain's Marcel Granollers, 6-2, 7-6 (7-1), 6-3 on Court Suzanne Lenglen. The second-seeded Swiss trailed 4-1 in the second set before clinching the tie-break.
"It was a difficult match," Federer, who has won a men's record 17 Grand Slam titles, said in a court-side interview in French. "After taking the second set, I played with more freedom."
Under coach Stefan Edberg, a two-time Wimbledon winner, Federer has become more aggressive in a bid to shorten points. Against Granollers, Federer lost seven of 37 points when he approached the net and produced 38 winners, including three aces. Granollers had 17 winners.
Also today, 2014 U.S. Open finalist Kei Nishikori of Japan defeated Thomaz Bellucci of Brazil 7-5, 6-4, 6-4, and Stan Wawrinka, the Swiss No. 2, moved to the third round with a 6-3, 6-4, 5-7, 6-3 win over Serbia's Dusan Lajovic.
Fabio Fognini, a 28th-seeded Italian who twice got the better of defending French Open champion Rafael Nadal on clay this season, lost in straight sets against France's Benoit Paire.
Frenchmen Gael Monfils and Jo-Wilfried Tsonga also won, while Tomas Berdych, the No. 4 seed, defeated fellow Czech Radek Stepanek.
Before it's here, it's on the Bloomberg Terminal.
LEARN MORE