Scene Last Night: Perelman, Goodman, Mack, Waldron, Ford, Farley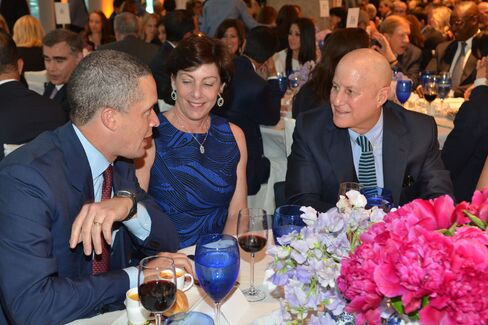 Before posing for a photograph, John Waldron, co-head of investment banking at Goldman Sachs, made sure he wasn't holding the party favor: a canvas bag from Morgan Stanley.
The benefit he was attending Tuesday night, Lincoln Center's American Songbook Gala, honored the former Democratic congressman from Tennessee, Harold Ford Jr., a senior client relationship manager at Morgan Stanley. The branded souvenirs were on every seat.
So Bennett Goodman of Blackstone Group's GSO Capital Partners and his wife, Meg, walked away with totes too, after John Legend performed "All of Me," their favorite song from the Grammy-award winner.
Ford, a member of the Lincoln Center board since October 2010, helped the performing arts center in New York raise $1.6 million.
"When you support this institution, you're really supporting not just Lincoln Center, you're supporting a wide, wide landscape of the advancement of culture," Ford said. That includes arts education. Ford helped bring 1,000 students from Brooklyn to spend a day at Jazz at Lincoln Center.
At Morgan Stanley, Ford said he spends half of his time on the institutional side, half on wealth management. He coordinates between the investment bank and the private bank.
"In this new world we live in, in which government has placed a big number of regulations on banks, we have to be sure to deliver every part of our services to every client we have," Ford said.
New Father
John Mack, former chairman and chief executive officer of Morgan Stanley, said he'd just spent a full day with Ford in Denver, where they conducted a fireside chat for private wealth clients.
"As we start into the political season, I think everyone wants to have kind of an insider's view and he clearly has that," Mack said. "And what I like about him is, he's so balanced, he's not far right or far left. I would love for him to run. I won't tell you what I'd like him to run for."
Mayor was on the lips of some guests, though not Ford's. Asked about his interest in leading the city, Ford, who once considered a run for a U.S. Senate seat from New York and has endorsed Hillary Clinton in the 2016 presidential race, said "I'm a new father for the second time, that's what I'm focused on."
Ford's son, Harold Eugene Ford III, was born May 17, excuse enough for his wife, Emily, to arrive just as guests sat down to dinner. The Fords' daughter, Georgia, is a year and a half old.
Heaney, Perelman
Throughout the evening at Alice Tully Hall, Ford held up his phone to show guests photographs of his kids while others praised him.
"He has a lot of charisma," said Katherine Farley, of Tishman Speyer, who leads Lincoln Center's board.
"He's one of the more giving guys," said Michael Heaney, global co-head of fixed income at Morgan Stanley. "He actually listens, and I say that because, nobody listens, especially in this business. He listens, he cares and he gives back."
Ronald O. Perelman, chairman and owner of MacAndrews & Forbes, said he first met Ford at a political fundraiser, and observed that Ford "still has the throbbing heartbeat of one day going back into public service."
In the meantime, Perelman was on hand to present Ford with his award for service to Lincoln Center. "He's smart, tough, charming, clever, and in-your-face but at the same time, very smooth about it," Perelman said. "We've had, what my wife, a psychiatrist, calls 'man love,' which is love without sex."
More than 300 guests attended the benefit, among them Evercore's Ralph Schlosstein, Joseph Tsai of Alibaba, Daniel Ziff, Citigroup's Ray McGuire, Anna Nikolayevsky of Axel Capital and David Hunt, chairman and CEO of Prudential Investment Management, which sponsors Lincoln Center's American Songbook series. Ford sat with Perelman, litigation attorney Beth Wilkinson, David Gregory and Willie Geist of MSNBC's "Morning Joe," a show that Ford appears on.
Before it's here, it's on the Bloomberg Terminal.
LEARN MORE