Russia Currency Splash Has Analysts Saying Ruble Rally Tamed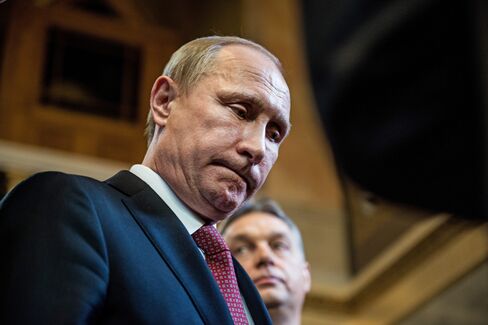 Foreign-currency purchases by Russia's central bank will put a stop to the ruble's world-beating rally, according to a Bloomberg survey of economists.
Buying as much as $200 million a day to replenish reserves will halt gains in the ruble, 19 of 28 economists said. While reserves may swell to $380 billion this year, they'll stay below the level they were when Russia annexed Crimea last March, a median of 25 estimates showed.
"The central bank has been putting the brakes on the ruble," said Gunter Deuber, an analyst at Raiffeisen Bank International AG in Vienna. "The plan isn't enough in volume terms to turn around the ruble FX market. However, it's a strong signal to FX market participants that the central bank sees enough ruble appreciation for the time being."
Reserves plunged more than $130 billion after President Vladimir Putin's seizure of Crimea triggered U.S. and European sanctions and oil prices sank, sending the ruble plummeting. The rebound in the currency risks hurting competitiveness as Russia grapples with its first recession in six years. Putin has called ruble weakness a "window of opportunity" for companies.
The ruble has surged 16 percent against the dollar in 2015, the best performance of more than 170 currencies tracked by Bloomberg. It weakened for a third session Thursday, falling 0.5 percent as of 1:25 p.m. in Moscow.
Sanctions Boost?
As policy makers weigh political risks in managing reserves, the current level is close to "comfortable," according to the central bank's deputy governor, Dmitry Tulin. The bank is reviewing their reserves policy and will explain it soon, Ksenia Yudaeva, another deputy governor, said May 21.
After a 1.9 percent contraction in the first three months, Russia's recession will bottom out in the second and third quarters, with gross domestic product set to shrink 4 percent in each, a separate survey showed. GDP will fall 3.6 percent in 2015 as a whole, according to the median estimate.
The economy is entering a long-term negative trend, Herman Gref, head of state-owned lender OAO Sberbank and a former economy minister, said in an interview with the Vedomosti business newspaper published Thursday.
It may get a boost in the next 12 months, during which 16 of 31 respondents see the European Union easing sanctions. While that's the first time in five months that a majority predict the measures will be loosened, only 10 percent see the U.S. relaxing sanctions in the same period.
The EU will meet next month to decide whether to extend the penalties. Some officials have said they should be prolonged until year-end to make sure all parties comply with the latest truce in eastern Ukraine.
Before it's here, it's on the Bloomberg Terminal.
LEARN MORE