Rousseff Wins Austerity Breakthrough as Brazil Caps Pensions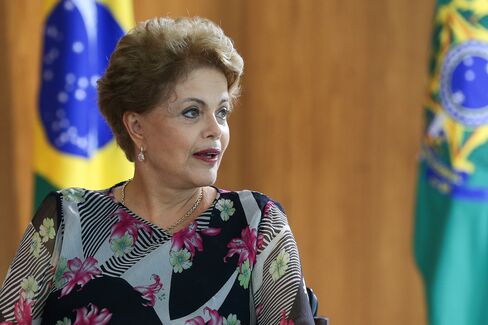 Brazil's President Dilma Rousseff scored a breakthrough in her drive to shore up public accounts with Congress approving the second in a series of key bills to cut spending and raise taxes.
The Senate voted 50-18 on Wednesday evening to limit sick leave and pension payments for surviving relatives, sending the legislation to Rousseff for approval. A bill that reduces jobless benefits was passed by Congress on Tuesday night. The two proposals combined could save the government an estimated 14.5 billion reais ($4.6 billion) a year.
The victories show how the Rousseff administration, trying to regain investor confidence, can still secure votes from lawmakers who are reluctant to approve cuts to worker benefits as unemployment surges. It now must push through Congress two more bills that would raise payroll and import taxes amid the fastest inflation in more than a decade.
"It's a major victory for the government, but we shouldn't celebrate yet," Gabriel Petrus, a political analyst for the business consulting firm Barral M Jorge in Brasilia, said. "The biggest test is yet to come with the payroll-tax bill that faces much more opposition."
The real fell 1.12 percent to 3.1754 per U.S. dollar at 11:54 a.m. in Sao Paulo as the dollar extended its rally after the Federal Reserve signaled it will raise borrowing costs this year if the economy meets forecasts.
Rousseff Veto
On Wednesday, the real gained for the first time in five days following the legislative win on jobless benefits Tuesday night. The currency last week fell the most in more than two months as senators in the ruling alliance said they would block austerity measures.
Delcidio Amaral, the government's leader in the Senate, told reporters Wednesday night that Rousseff hasn't decided whether to try and veto the amendment. The administration may propose an alternative to the amendment that wouldn't increase spending until after 2022, he said.
Meanwhile the lower house in June is scheduled to start voting on legislation to reverse payroll-tax exemptions that would boost government revenue by an estimated 12.8 billion reais in a year. The Senate started Thursday morning voting procedures on a proposal to increase import taxes.
"I expect senators to continue collaborating in the same way they've been doing for measures that are essential to the country," Vice President Michel Temer told reporters Wednesday, referring to the import tax bill.
At Odds
Some companies, including the Brazilian division of carrier LATAM Airlines Group SA, say the payroll legislation would raise their costs as the economy falters.
The administration also has been forced to respond to reports that Rousseff's leading economic aides, Finance Minister Joaquim Levy and Budget Minister Nelson Barbosa, are at odds over fiscal policy.
Levy has scaled back his meetings with legislators and last week skipped a news conference in which Barbosa announced a 69.9 billion-real spending freeze.
Levy this week said the freeze wasn't enough to ensure the government would meet its fiscal target, while denying the existence of a rift with Barbosa. Rousseff told reporters in Mexico City on Wednesday there isn't a conflict between her two ministers.
The two are focused on turning last year's budget deficit into a surplus before interest payments equivalent to 1.1 percent of gross domestic product this year. Levy says the fiscal tightening is key to averting a credit downgrade to junk.
Before it's here, it's on the Bloomberg Terminal.
LEARN MORE