Reynolds Sees Lorillard Deal Closing in June After FTC's Nod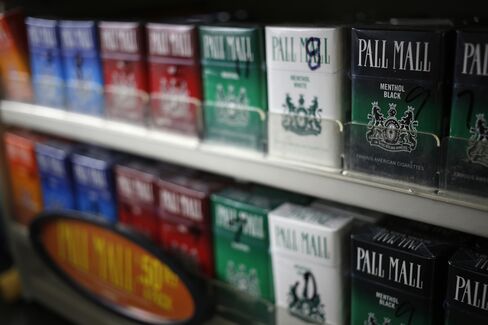 Reynolds American Inc. expects to complete its $27.4 billion purchase of Lorillard Inc. next month, following approval from antitrust officials of the U.S. biggest tobacco deal in decades.
Reynolds, the maker of Camel and Pall Mall cigarettes, was cleared to buy its rival Tuesday after the Federal Trade Commission accepted its proposal to sell Winston, Kool, Salem and Maverick to Imperial Tobacco Group Plc, a British company that is expanding in the U.S. The last significant hurdle to close the transaction is approval from a federal district court.
"The companies have requested that the court rule expeditiously, and they are confident that the acquisition and related transactions will close by the end of June," according to a statement from Reynolds and Lorillard.
The move sets the stage for another round of consolidation in the U.S. tobacco industry, where two companies -- Reynolds and market leader Altria Group Inc. -- will soon sell about nine out of every 10 cigarettes. The merger allows Reynolds to acquire Lorillard's Newport menthol cigarette brand, which is popular in urban areas, and cut costs. Reynolds Chief Executive Officer Susan Cameron aims to carve out $800 million a year in expenses and turn a profit on the deal within the first year.
Reynolds is selling the four brands to Imperial to help preserve competition in the market, a condition it agreed to at the outset of announcing the deal last July. The FTC also is requiring Reynolds to divest Lorillard's production facilities in Greensboro, North Carolina. Imperial will get the plant, along with the opportunity to hire most of Lorillard's staff. Reynolds and Lorillard will have to temporarily provide Imperial with retail shelf space as well.
'Aggressive Competitor'
"Imperial is positioned to be a sufficiently robust and aggressive competitor," said the FTC, which voted 3-2 to clear the deal.
The tobacco business has struggled with shrinking demand in the U.S., spurred by higher taxes, marketing reductions and aggressive anti-smoking campaigns. A clampdown on the industry followed a $206 billion legal settlement with 46 states in 1998 over health costs.
Chasing Altria
The new company will have annual revenue of more than $11 billion. That's almost two-thirds the yearly sales of U.S. market leader Altria, which sells Marlboro cigarettes. Reynolds will have operating income of about $5 billion. The combined business will account for almost 33 percent of the U.S. industry, Reynolds has said.
The new company still must contend with eroding tobacco sales brought on by health concerns and smoking restrictions. But even with those challenges, cigarette companies have remained profitable. Altria, Reynolds and Lorillard all boosted adjusted net income last year.
Reynolds shares rose 2.3 percent to $77.13 in New York, while Lorillard climbed 1 percent to $72.82.
Separately, Imperial is acquiring the Blu brand from Lorillard, helping preserve competition in the burgeoning market for electronic cigarettes.
Commissioner Julie Brill, who voted against the settlement, said in a statement that the asset sales to Imperial aren't enough to restore competition and that the deal will lead to higher prices for consumers.
"The commission is betting on Imperial's ability and incentive to compete vigorously with a set of weak and declining brands," Brill said. "Imperial's ability to do so is at best uncertain."
Before it's here, it's on the Bloomberg Terminal.
LEARN MORE