The Federal Reserve's report on the economic well-being of U.S. households is out, and it contains one very interesting finding: A decent share of Americans want to work longer hours even without a raise.
The Fed asked non-self-employed workers whether they'd prefer to work more, less, or the same amount that they now work if their hourly wage was unchanged. The goal of the question was to help gauge the amount of underemployment in the economy, according to the report.
Thirty-six percent of respondents said they'd prefer to work more hours at their current wage. Among those who work part time, the share is even higher at 49 percent. The results might help Fed Chair Janet Yellen and her colleagues connect the dots in a labor market that's still flashing mixed signals.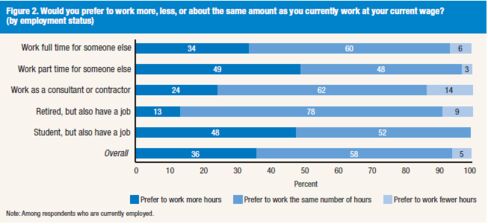 "When Yellen says that the unemployment rate probably does not fully capture the extent of slack in the labor market, this is exactly what she's talking about," Thomas Simons, a money-market economist at Jefferies LLC in New York, said in an e-mailed response to questions. "Until workers perceive that there are more opportunities available that offer higher wages, they will be content to work for the same rate rather than take a risk for more."
The question was new to the 2014 report, Fed spokeswoman Susan Stawick said in an e-mail, so unfortunately there's no history for it for comparison purposes.
Still, if a large enough share of people are willing to work longer hours at their current rate, that limits the pressure employers feel to raise wages. Average hourly earnings were up just 2.2 percent in the year ended April, within the same narrow range in which the gauge has fluctuated since the recovery started and a far cry from the 3 percent to 4 percent pace that's been the historical norm.
Economists from Washington to Wall Street have been trying to put their fingers on just how much slack is left in the economy, with the unemployment rate at a seven-year low and payrolls clocking fairly steady gains. However some forms of underemployment -- such as the college graduate who's working as a barista -- can be harder to calculate.
"It is that the question was asked at all that shows the bias of the Fed under Chair Yellen to find slack in the labor market," Chris Rupkey, chief financial economist at Bank of Tokyo-Mitsubishi UFJ Ltd., said in an email response to questions. "But I would grant there is perhaps not enough upward pressure yet on wages from a tight labor market."
For more on the global economy, check out Benchmark:
Before it's here, it's on the Bloomberg Terminal.
LEARN MORE