Japan's Top Bond Analyst Sees 2016 Yield Surge Before Taper Talk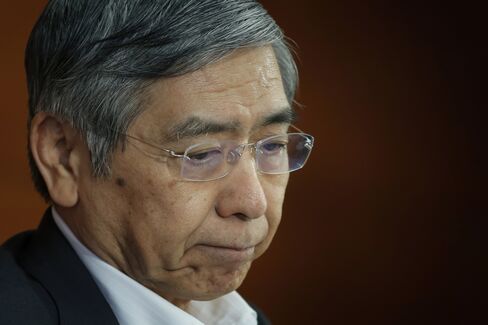 Japan's top-rated bond strategist says investors have more than a year to hold the nation's sovereign debt before yields start to surge on speculation the central bank will scale back its record monetary easing.
Jun Ishii, the chief debt strategist in Tokyo at Mitsubishi UFJ Morgan Stanley Securities Co., voted No. 1 by Nikkei Veritas magazine for two consecutive years, said the 10-year yield on Japanese government bonds will more than double to 1 percent by about the first quarter of 2017. The benchmark yield will then climb to 1.2 percent by the end of 2017 as Bank of Japan officials discuss how to taper their stimulus program that began in April 2013, Ishii said.
"JGBs are supported by BOJ buying, but once markets turn to the possibility of an exit, selling will snowball," he said.
Japan's yields have doubled since reaching a record low of 0.195 percent in January, even as BOJ Governor Haruhiko Kuroda reiterated this month that it's too early to discuss an exit from stimulus aimed at pushing inflation to 2 percent. The BOJ will start to taper its asset purchases as soon as next year, according to five of 36 analysts surveyed by Bloomberg. Another five estimated the move will happen in the second half of 2017.
History Lesson
History suggests that Japanese bond yields will increase before the central bank signals it's ready to tighten.
JGB yields started climbing eight months ahead of the central bank's decision to end five years of quantitative easing on March 9, 2006. In May 2006, the 10-year yield reached 2.005 percent, its highest since August 1999.
A similar pattern happened in the U.S., where 10-year Treasury yields shot up above 3 percent when Federal Reserve Chair Ben Bernanke mentioned tapering in May 2013, Ishii said.
"We have to keep this in mind, as it is the only precedence of an exit from unprecedented monetary easing," Ishii said referring to the past move in U.S. yields.
The yield on the 10-year JGB was little changed at 0.395 percent as of 2:50 p.m. in Tokyo on Thursday, according to Japan Bond Trading Co., the nation's largest inter-dealer debt broker. A basis point is 0.01 percentage point.
No Choice
For the time being, the central bank's bond purchases will keep yields anchored, said Satoshi Shimamura, the Tokyo-based head of rates and markets at the investment-strategy department of MassMutual Life Insurance Co. The BOJ buys as much as 12 trillion yen ($97 billion) of bonds a month to spur the economy.
"There may be no other choice but for the BOJ to keep buying JGBs to peg yields low in light of the dire fiscal situation," Shimamura said.
Since the BOJ started easing in April 2013, Japan's outstanding government debt, including securities issued to fund fiscal investment and loan programs, increased 53.6 trillion yen to a record 1,023 trillion yen at the end of 2014.
Yields will start to climb next year even if the central bank's inflation forecast due October 2016 falls short of its 2 percent goal, according to Mitsubishi UFJ Morgan Stanley's Ishii. From about October 2017, Kuroda will start publicly talking about a policy exit before his term as BOJ governor ends in March 2018, the strategist said.
"Even without any guidance from the BOJ, markets will get jittery and rush to unwind positions," Ishii said.
Before it's here, it's on the Bloomberg Terminal.
LEARN MORE