Isabel Vaz Emerges as Rare Survivor of Espirito Santo Storm
Isabel Vaz was vacationing in August in Troia, a sandy finger of land at the mouth of the River Sado in Portugal, when she heard of the collapse of Banco Espirito Santo SA, once the country's biggest publicly traded lender.
Vaz had more than just a passing interest in the news. The chief executive officer of Luz Saude SA not only had some of her health-care company's accounts at the bank, but her business was part of the family-owned group that also controlled the lender. Within hours of the Aug. 3 announcement, she was back in Lisbon to convene a crisis meeting at her company.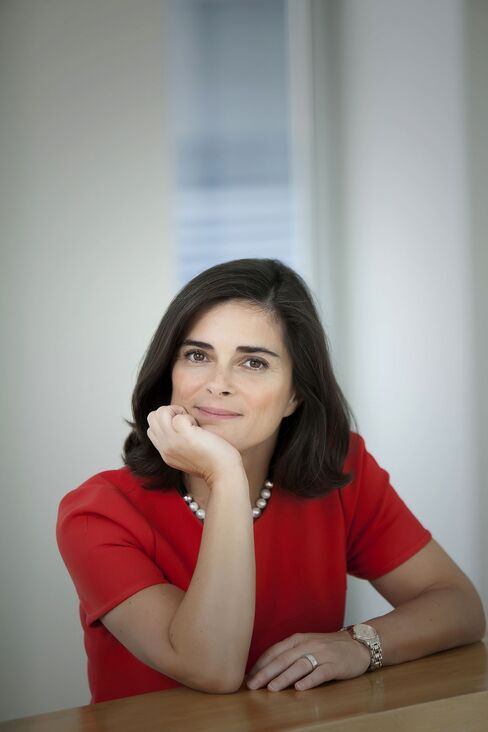 "It was possibly the worst day of my professional and personal life," Vaz, 49, said in an interview at Saude's Lisbon headquarters. "The company could really collapse because we couldn't access our money." By dawn, her managers were looking at where the company's deposits were and working around the clock to unblock the funds.
Just months later, Vaz, one of only three women to lead a publicly traded company in Portugal, had shown she's a survivor. Saude was among the few Espirito Santo companies to come through unscathed. In October, Fosun International Ltd. bought Saude for 460 million euros ($515 million) with Vaz getting the Chinese group to raise its offer, and commanding a 27 percent premium to the stock price before bids started rolling in.
"She was a captain in full storm, with winds coming from everywhere," said Jose Roquette, a clinical director at the company's Hospital da Luz who has worked with Vaz since she founded Saude in 2000. "She was able to control the vessel and lead it to safety."
'Permanently Challenged'
The mother of two remains the CEO of the company whose 18 hospitals, clinics and nursing homes make it Portugal's biggest private health-care provider in a market valued at about 5.5 billion euros. Saude's revenue has risen more than 60 percent since 2010. Its Chinese owners offer her new opportunities to expand and develop ways to reshape the health sector, Vaz said.
"I love being permanently challenged," she said. "It's an organization that works with very little hierarchy."
See also: Portugal Gender-Equality Challenge Showcased by Vaz Exception
Her long journey to this point began when Vaz, the daughter of a physician, joined McKinsey in 1992 armed with a chemical engineering degree and a brief stint as a researcher at a biotechnology institute. While at the consulting firm, she worked with Grupo Espirito Santo on restructuring insurer Tranquilidade, which had been handed back to the family after its 1970s nationalization.
That's when she met Ricardo Salgado, the former CEO of Banco Espirito Santo and a great-grandson of the bank's founder. Salgado asked her to start a health-care company. The hospital operator Vaz founded in 2000 was formerly named Espirito Santo Saude SA.
Going Public
Many Espirito Santo holdings that relied on the bank have gone bankrupt.
After the bank's collapse, "I had to rapidly move our cash to our other accounts," Vaz said. Automatic payments at the hospitals were moved to lenders such as Banco Comercial Portugues SA and Banco BPI SA.
With Europe's financial crisis hitting the group, Vaz says she knew by the summer of 2013 that she had to protect Saude. She decided to sell shares through an initial public offering, allowing the main shareholder to raise money while also subjecting Saude to the rigor of financial markets.
"We were certain that if we submitted the company to the scrutiny of capital markets, with the legal and financial audits necessary to put together a prospectus, that would protect us from any reputational damage in the future," Vaz said. The IPO was among the last success stories for the group.
Not 'Peanuts'
Salgado called her at the company's trading debut to congratulate her, she said.
"I'm sure he backed this strategy because he knew that the company would be saved," Vaz said. "I didn't quite understand his words fully at the time. I knew the situation was serious, but didn't expect" the bank's collapse, she said.
The listing also helped the health-care operator when, after the collapse of the group, it became the target of a bidding war and received four competing offers, including from a local competitor that wanted to retain Vaz at the helm.
"Whoever was interested in the company had to value it, it wasn't sold for peanuts," she said.
Looking back, Vaz says Saude traversed the crisis by being steadfast and showing workers that "we were completely dedicated; we would fight to the end. There was no panic," she said.
'No Giving Up'
If there's anything she can be pulled up for, it's that she "sometimes lets the heart rule over reason," and "she is sometimes disorganized in meetings," said Roquette.
"But I can forgive her almost anything," he said. ``Her passion for medicine makes us overcome everything and want us to be better professionals every day.''
The CEO who declined an offer to become Health Minister four years ago says she has no regrets.
"This is my life's project," she said. "We can always do things differently and better and that's something I can't give up."
Before it's here, it's on the Bloomberg Terminal.
LEARN MORE