IAG Will Need to Charm 'Kingmaker' Ryanair to Buy Aer Lingus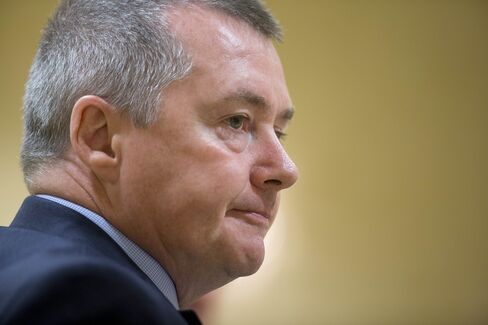 IAG SA Chief Executive Officer Willie Walsh, having won over Irish lawmakers for his plan to buy Aer Lingus Group Plc, will next have to tackle the combative boss of Europe's biggest discount carrier to secure the takeover.
Ryanair Holdings Plc, Aer Lingus's largest shareholder with a 29.8 percent stake, has been careful to avoid commenting on whether it favors a deal, though CEO Michael O'Leary has said the airline is open to discussing an offer if a formal approach is made. IAG has said it wants at least 90 percent of Aer Lingus shareholders accepting the bid and it won't buy without a commitment from both the government and Ryanair.
The situation leaves Ryanair "to play kingmaker" Jefferies analysts Mark Irvine-Fortescue and Ian Rennardson said in a note to investors Wednesday. In a position of strength -- Ryanair announced a 66 percent surge in annual profit on Tuesday -- and having seen its own attempts to buy Aer Lingus rejected by regulators, the airline may "play hard ball," they said.
"Presumably if Ryanair rejected the offer as too low, the onus would be on IAG to return with a higher bid for all shareholders," the analysts said.
IAG, the parent company of British Airways, won government support for its 1.4 billion-euro ($1.52 billion) offer after the group "provided additional information and certain commitments in relation to its proposal," according to a release on Tuesday following a cabinet meeting. IAG said it agreed with the independent directors of Aer Lingus on the offer, which consists of 2.50 euros in cash for each share, and 5 cents as a cash dividend.
Aer Lingus rose as much as 2.3 percent in Dublin. The stock was up 1.9 percent at 2.44 euros as of 11:29 a.m. IAG climbed as much as 2.1 percent in London.
Not Forced Sellers
"We're hopeful that Ryanair will see this as an attractive offer for their stake in Aer Lingus," Walsh said on a conference call with analysts today, adding that IAG is not relaying on the airline being "forced to sell."
British competition authorities have demanded that Ryanair reduce its stake in Aer Lingus to no more than 5 percent, in a long-running dispute between the carrier and antitrust regulators. A U.K. appeal court in February backed the country's Competition and Markets Authority, which said that Ryanair's Aer Lingus holding gave it too much control over its primary Irish rival. The ruling could be made irrelevant by an IAG takeover.
Regained Footing
"We have very carefully considered all of the issues involved and have concluded that supporting IAG's offer is in the best interests of the airline," Irish Transport Minister Paschal Donohoe said in a statement. The Irish government holds a 25 percent stake.
The move comes three months after the state rejected the airline's indicative bid as it held out for more commitments on jobs and routes. IAG Chief Executive Officer Willie Walsh, who began his career as a pilot at Aer Lingus, went on a charm offensive to calm concerns and negotiate with government representatives. IAG said that Aer Lingus will retain its slots at Heathrow and will keep operating its key flights linking Ireland and the U.K. hub for at least seven years.
In an interview with Bloomberg Television on Wednesday, Donohoe said he expected strong backing from parliament in a vote tonight or tomorrow.
Aircraft Finance
About two years ago, Ryanair made a 694 million-euro bid for its Irish rival.
Ryanair Chief Financial Officer Neil Sorahan said on Tuesday that the company remains open to discussing an offer and relishes competition.
"We think Ryanair will now sell," said Robin Byde, an analyst with Cantor Fitzgerald LP in Dublin. "Although the company has good access to finance for its large new aircraft orders, the additional cash would no doubt be welcome."
Before it's here, it's on the Bloomberg Terminal.
LEARN MORE