Here's How Divided Europe Is on the Most Basic Bureaucratic Details
Countries in the European Union are worlds apart
Did you know that you can be a child bride in Greece?
Girls there can marry at 12 with the consent of their parents. Try that stunt in France — where the legal age is 18 without exceptions — and you might serve time.
The gridlock over Greece's debt negotiations is the most talked-over example of how divided the continent is. A new report entitled "Demographic statistics" by Eurostat, the European Union's statistics office, goes into fascinating detail of just how far the EU is from the ideal of a level playing field. Call it the Ununited States of Europe, where no two rules are the same.
This says it all, in one chart.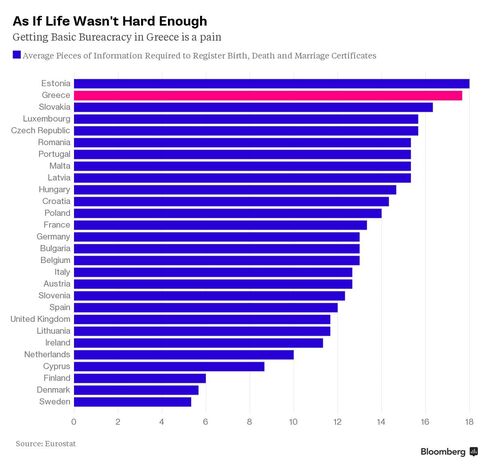 In Greece, to get your son or daughter registered requires proof of 24 things like whether the child is legitimate, something several countries have done away with to remove the stigma attached to being born to unmarried parents.
Germany requires almost half as much information. Getting hitched in Denmark is one of the least bureaucratic, spawning a cottage industry.
The overarching theme of the 100-page report is that even when it comes to looking at what should be fairly straightforward and unambiguous data -- a population census, a death, a divorce -- there is no agreement on the basic methodology needed to record it for posterity.
For more on the global economy, check out Benchmark:
Before it's here, it's on the Bloomberg Terminal.
LEARN MORE