Germany Gives G-7 a Davos Spin as Great Minds Meet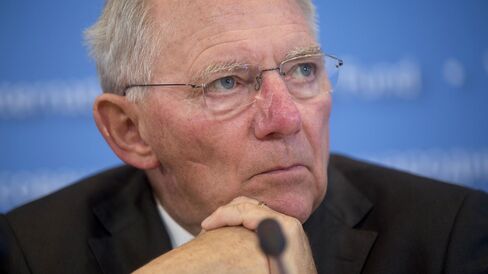 The world's top finance ministers and central-bank chiefs meeting in Dresden this week are looking to get back into the spotlight.
Instead of a closed-door debate and a bland statement, officials at the Group of Seven event in Dresden hosted by German Finance Minister Wolfgang Schaeuble attended a symposium led by headline-grabbing economists such as Nouriel Roubini. That's intended to drive them to think bigger and examine longer term economic issues when they begin their private talks.
"We had a fascinating, intensive discussion" about the "fundamental questions" of the world economy, Schaeuble told reporters. Talks were "sufficiently controversial to provide impulses that will influence the work we set out to do."
The German push marks an attempt to boost the relevance of the near four-decade-old G-7, which has been sidelined by the emergence of new economic powers in China, Brazil and India and the broader Group of 20. In looking to economists to encourage a more lively tone, the Dresden meeting is taking its cue from events such as the World Economic Forum in Davos and the Federal Reserve's agenda-setting annual Jackson Hole gathering.
"It's a bit anachronistic because it was clearly the big seven when it was formed, but you're missing the world's second-largest economy, which makes it slightly odd," said Grant Lewis, an economist at Daiwa Capital Markets in London who previously worked at the U.K. Treasury. "I can see why people are trying to make it slightly more interactive, but whether that actually achieves anything remains to be seen."
Crisis Lessons
Harvard University Professor Kenneth Rogoff and Nobel winner Robert Shiller were at the symposium on Thursday -- "Towards a Dynamic Global Economy" -- along with Roubini and former U.S. Treasury Secretary Lawrence Summers.
Attendees discussed how fiscal and monetary policy can contribute to sustainable growth and debated the challenges of digitalization and demographics. They also examined whether the right lessons were learned from the financial crisis.
Summers will be fresh from a trip to Sintra in Portugal, where the European Central Bank this month held its annual economics gathering. The conference, only in its second year, is intended as a European answer to the Fed's Jackson Hole.
In addition to the big-name economists, the meeting is being graced by Fed Chair Janet Yellen, who's planning to skip Jackson Hole in August, ECB President Mario Draghi and Bank of England Governor Mark Carney. Among the government officials are U.S. Treasury Secretary Jacob J. Lew, as well French and U.K. finance ministers Michel Sapin and George Osborne.
Greek Shadows
While the German Finance Ministry has said one of the central issues at Dresden will be sustainable growth in the face of record debt levels, that agenda is at risk of being overshadowed by Greece. European officials are battling to reach an agreement with the nation to release more bailout funds before a loan repayment due next month to the IMF.
When it comes to the negotiations, there's "no clear dividing line between politics and economics," Shiller said in a Bloomberg television interview. "My guess is that this will be resolved at the last minute, and Greece will not default."
According to Summers, "both sides are going to have to move."
"Greece is going to have to get more serious" on reforms, he said. "The Europeans need to recognize that there are limits to the degree of austerity that can be imposed."
On the G-7, one major power shift happened in Pittsburgh in 2009, when President Barack Obama and counterparts said the broader group would become the main forum for directing the global economy. Nevertheless, as emerging and developed economies diverge or have different priorities, there may still be a place for the smaller clique.
"The G-20 came into prominence at a time where there was unity among countries to fight the global financial crisis, and it is the best forum to discuss some issues, like the environment," said Stefan Schneider, an economist at Deutsche Bank AG in Frankfurt. "But now, as there are again competing agendas, smaller groups like the G-7 can be more homogeneous."
Before it's here, it's on the Bloomberg Terminal.
LEARN MORE