GE Said to Hire Morgan Stanley as Adviser on Japan Sale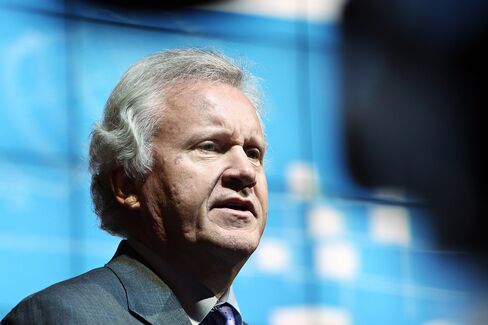 General Electric Co. hired Morgan Stanley to advise on the sale of its Japan leasing business, which has 500 billion yen ($4 billion) of assets, said people with knowledge of the situation.
GE plans to seek bids for the operation, which includes 1,000 local employees, as soon as in July, said the people, who asked not to be named because the matter is private. It aims to hold a second round of bidding around September and strike a deal as early as in October, according to one of the people.
Chief Executive Officer Jeffrey Immelt is seeking to divest about $200 billion of financial assets and return GE to its industrial roots. The U.S. company plans to sell all of the Japan leasing assets in one go, the people said.
Sumito Koike, a spokesman for GE in Tokyo, declined to comment, as did Mika Watanabe, a Tokyo-based spokeswoman for Morgan Stanley.
IBJ Leasing Co., Century Tokyo Leasing Corp., Mitsubishi UFJ Lease & Finance Co., Sumitomo Mitsui Finance & Leasing Co. and Orix Corp. are among those that are interested in acquiring the assets, spokesmen at the companies said by phone.
Documents providing information on the business and the sale will be sent to potential bidders as early as June, according to the people. More than 1,000 people work for GE's Japanese finance arm, which does commercial lending as well as leasing of automobiles, office equipment and construction machinery, the people said.
Potential Hurdle
The companies haven't decided whether to bid, the spokesmen said. The requirement to acquire all of the assets and take over all the employees may be a hurdle to some potential bidders, the people said.
GE has operated in Japan since 1886, when it provided electric generators to a government printing factory. The Fairfield, Connecticut-based company had 4,600 employees in the country as of March 2014, according to its website. As well as finance and leasing, it has businesses in Japan spanning areas from health care to energy and water.
Immelt said this month that GE will largely meet its goal of divesting about $200 billion of assets next year, beating a previous target of 2017. The company will sell the bulk of its commercial and consumer lending businesses while retaining units that support manufacturing operations, including aircraft leasing, it said in April.
Morgan Stanley and its investment-banking partner Mitsubishi UFJ Financial Group Inc. were the top adviser for mergers and acquisitions in Japan in 2013 and 2014, data compiled by Bloomberg show. The ranking has slipped to eighth this year, while Mizuho Financial Group Inc. has vaulted to the top position, according to the data.
Before it's here, it's on the Bloomberg Terminal.
LEARN MORE