FIFA Faces Protest as Arrest Scandal Hits Soccer Body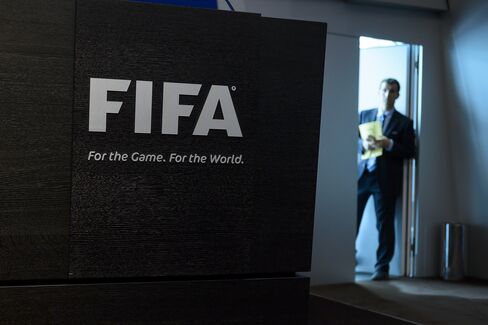 As the world of soccer is rocked by a corruption scandal, Zurich -- home to FIFA for well over half a century -- is gearing up for protests against the body's practices.
Avaaz, an international civil organization, will demonstrate on Thursday in front of Hallenstadion, the venue for FIFA's 65th congress. The 209 national member associations of soccer's governing body are gathering there even after seven of its officials were arrested in Zurich on Wednesday.
Avaaz, launched in 2007 and with more than 41 million members globally, is protesting against labor laws in Qatar, host of the 2022 soccer World Cup. About 20 people, wearing worker overhauls and hard hats will be held in a cage by a giant head resembling FIFA's president, Joseph "Sepp" Blatter. The organization is also planning to get protesters to wave red cards at the demonstration.
"FIFA has a long history of corruption and not caring about workers rights," said Daniel Boese, spokesman for Avaaz. "Hopefully, this will lead to a change as billions of people care about soccer around the world. We still haven't seen FIFA reacting. The reactions at the conference are just the old style of FIFA."
Avaaz has called on Qatar to change its labor laws, according to a letter signed by five former international soccer players, among which Tottenham Hotspur's David Ginola and Arsenal's Lee Dixon. The organization plans to launch a similar letter in the course of Thursday, urging Blatter to resign.
Hotel Arrests
The Swiss public thinks similarly. Seventy-eight percent of respondents in a survey by paper Le Matin published on Thursday say that Blatter should step down. Just 5 percent say he should stay.
The protests add to FIFA's woes in its host city, after Swiss police entered the luxury Baur au Lac hotel in Zurich in a dramatic dawn raid on Wednesday and arrested seven of its officials.
Swiss prosecutors said they have "opened criminal proceedings" related to the awarding of the 2018 and 2022 World Cup games to Russia and Qatar respectively. Separately, the U.S. indicted nine FIFA officials for racketeering, wire fraud and money laundering conspiracies.
The probes raise questions about the management of the world's most watched sporting event, with more than $1 billion in annual revenue and sponsors ranging from Coca-Cola Co. to Adidas AG.
Tumultuous History
While the charges stop short of the FIFA president, his future has also been suddenly thrown into question. Blatter, 79, who has run the soccer body since 1998, is seeking a fifth term in an election scheduled for Friday. As international soccer executives gathered in Zurich, his all-but-certain re-election now looks a lot less sure.
On his watch, the organization has endured one scandal after another. In recent months, FIFA has been under pressure to act over the treatment of migrant workers in Qatar following the deaths of mainly South Indian laborers brought in to work on World Cup projects.
Russia has also been criticized about racism and homophobic incidents at soccer stadiums.
The Zurich protests and the probes mark the latest wrinkle in FIFA's tumultuous history. The body sought to put on a brave face.
"This is not good in terms of image or reputation but in terms of cleaning up everything we did over the past four years, this is good," FIFA's chief spokesman, Walter De Gregorio, told reporters on Wednesday at the House of Football in the hills above Zurich.
Before it's here, it's on the Bloomberg Terminal.
LEARN MORE