Exxon, Chevron Say No Thanks to European Peers on Climate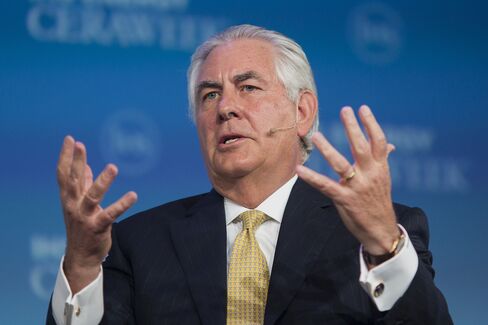 The biggest U.S. oil producers have dismissed the prospect of joining their European peers in forging a common stance on climate change, with Exxon Mobil Corp.'s CEO saying he doesn't intend to "fake it."
Exxon Mobil and Chevron Corp.'s go-it-alone strategy could weaken the impact of any targets, carbon goals or other climate-friendly measures endorsed by explorers including Royal Dutch Shell Plc, BP Plc and Total SA. The European energy giants are coordinating a strategy ahead of the United Nations' climate talks in Paris this December.
The industry is under mounting pressure from politicians and some investors to take a leading role in fighting climate change. U.S. Secretary of State John Kerry said last week the onus is on energy producers to voluntarily curb emissions and encourage governments to adopt ambitious carbon limits.
"We don't intend to participate in that coalition," Chevron Chairman and Chief Executive Officer John Watson told investors at the company's annual shareholders' meeting on Wednesday. "We think we can make our statements, and our statements speak for themselves."
Exxon Chairman and CEO Rex Tillerson was more blunt in remarks to reporters after his company's annual meeting in Dallas on Wednesday. A shareholder who'd praised the European companies for at least paying "lip service" to environmental concerns drew this response:
"No thank you, that would not be us," Tillerson said. "We're not going to be disingenuous about it. We're not going to fake it. We're going to express a view that we have been very thoughtful about. We're going to express solutions and policy ideas that we think have merit."
Not 'Helpful'
Tillerson's comments suggested the European oil producers' initiative may be more for the benefit of environmental activists and policymakers than anything else.
"Speaking out to be speaking out about it doesn't seem particularly helpful to me," he said.
Both CEO's indicated they want to maintain control over the message their company sends to United Nations negotiators discussing carbon limits in Paris.
Tillerson reiterated Exxon's position is to support a carbon tax if a consensus emerges in the U.S. for climate action and warned that hurriedly adopting carbon limits based on current modeling technology could have costly long-term consequences for shareholders.
A University of Texas-trained engineer who's spent his 40-year career at Exxon, the CEO said technology will provide solutions to any impacts that result from climate change, such as higher sea levels.
Flawed Models
Climate models that seek to predict the outcome of rising temperatures "just aren't that good," Tillerson said, reiterating a position he has publicly advocated at least since his promotion to CEO in 2006. The company is wary of making efforts to reduce emissions that may not work or that will be deemed unnecessary if the modeling is flawed, Tillerson said.
"Mankind has this enormous capacity to deal with adversity. Those solutions will present themselves as the realities become clear," he said. I know that is a very unsatisfying answer for a lot of people, but it's an answer that a scientist and an engineer would give you.''
Exxon has been consistent in its positions on the impact of rising temperatures and doesn't need to be part of a group, Tillerson said. For his part, Watson declined to specifically address the goals or tactics of the European companies involved in hammering out a common position on climate.
Shifting Sentiment
A handful of shareholders at Exxon's meeting in a Dallas symphony hall criticized the company for failing to react more aggressively to rising temperatures, and for not joining companies such as Statoil ASA in embracing investor proposals related to climate.
"Investors have shifted," said Sister Pat Daly, one of many shareholders pushing for changes that spoke at Exxon's meeting. "We need to walk away from the Paris climate negotiations in December with a treaty that will lead us in a sustainable direction."
Shareholder proposals that sought to nudge Exxon and Chevron toward more aggressive stances on climate change failed to muster enough votes for approval, according to preliminary counts. Those resolutions included having a director with environmental expertise and setting greenhouse-gas emission targets.
Environmentalists, activist investors and religious orders that attended Chevron's meeting in San Ramon, California, to voice support for green resolutions met with resistance from some investors.
"These proposals all say get the hell out of the oil business because it's too dirty and it's going to end the world," said Shelton Ehrlich, a long-time Chevron shareholder. "The development of shale is a godsend to the less-advantaged in America because it makes fuel cheaper. These activists would prefer we depend on the dictators of the world, the Putins and the mullahs."
Before it's here, it's on the Bloomberg Terminal.
LEARN MORE