After Mercedes, Erdogan Promises Top Turkish Imam a Jet, Too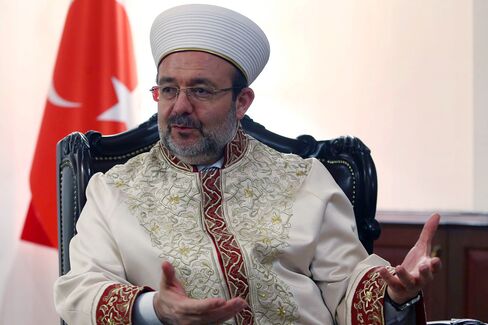 Less than a week after Turkey's top cleric got an armored Mercedes, President Recep Tayyip Erdogan says the imam should get a private jet, too.
Erdogan said in a TV interview late Tuesday that he was enraged by the public outcry over a $385,000 car Turkey's Directorate of Religious Affairs bought for Mehmet Gormez, the agency's head. After Gormez returned the vehicle under public pressure, Erdogan presented the cleric with a similar car from his own fleet, then promised him a new aircraft.
"The religious leader at the Vatican has a private jet, private cars, armored vehicles," Erdogan said. "Are we just an ordinary country? Why should he travel with a commercial plane?" he said of Gormez.
The Pope doesn't have a private jet. A Vatican official told Bloomberg on Wednesday that the pontiff usually uses an Alitalia jet on the outward journey, and returns on a plane of the national airline of the country he visited. When Pope Francis visited Turkey in November, he made headlines in local media for using a "modest" Renault Symbol rather than continuing with an armored Mercedes that was waiting for him at Ankara's airport. He uses a Ford Focus around the Vatican.
Arabian Horses
Turkey's opposition parties have made the government's lavish spending on public buildings and luxury cars a campaign issue ahead of the June 7 parliamentary election. They've pledged to cut back on the perks and increase social spending should they win.
Erdogan is usually at the center of the opposition's criticism for having built himself a $615 million, 1,150-room palace four times the size of Versailles in the capital, Ankara. On Wednesday, he officially inaugurated $230 million worth of facilities including stables to house the government's Arabian horses; 53 of them were a gift from Qatar's Emir Sheikh Tamim Bin Hamad Bin Al Thani, he said.
Finance Minister Mehmet Simsek, who has a reputation for keeping spending in line, has said outlays on cars won't compromise Turkey's fiscal discipline. The luxury sedan Erdogan gave Gormez is "peanuts" for the Turkish economy's budget, Simsek said Sunday on his Twitter page.
Before it's here, it's on the Bloomberg Terminal.
LEARN MORE