Poloz Holds Rates Steady as Canada Recovery Stays on Track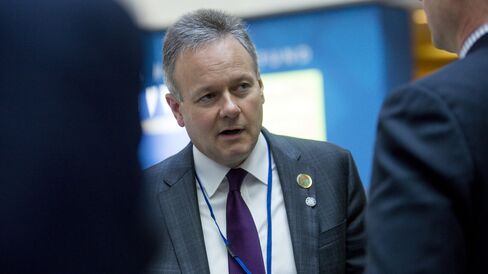 The Bank of Canada kept its key interest rate unchanged for a third meeting and said the economy is recovering from a drop in oil prices.
Policy makers kept the benchmark rate on overnight loans between commercial banks at 0.75 percent in a decision released Wednesday in Ottawa, where it's been since a quarter-point reduction in January. All 23 economists in a Bloomberg News survey expected no change.
"Recent indicators suggest consumption in Canada is holding up relatively well, given the impact of lower oil prices on gross domestic income," policy makers led by Governor Stephen Poloz said in a statement. "The Bank's assessment of risks to the inflation profile has not materially changed."
Poloz said last week the impact of lower energy prices was faster but not larger than policy makers expected and positive forces such as cheaper gas for consumers will become the dominant story by mid-year, reiterating the economy should return to full output by the end of 2016.
"Given its concerns about the global economy and domestic risks, the central bank will likely continue to err on the side of caution and delay interest-rate hikes to next year," Krishen Rangasamy, senior economist at National Bank Financial in Montreal, said by telephone. The statement "isn't particularly dovish," he said.
Financial Conditions
A recent rebound in oil prices and a weaker U.S. dollar have boosted Canada's currency in recent weeks, and policy makers will need to assess the effect of those changes if they persist, policy makers said. Canada is benefiting from "highly stimulative" financial conditions even as global bond yields have increased, they said.
Canada's dollar weakened 0.4 percent to C$1.2478 per U.S. dollar at 10:49 a.m. Toronto time. The comments about studying the persistence of a stronger dollar suggests policy makers "don't want the currency to appreciate" much from here, Rangasamy said.
Inflation has fallen below the bottom of the bank's 1 percent to 3 percent target band because of "the transitory effects of sharply lower energy prices," the bank said. Core inflation is also boosted by the weaker currency and other changes in specific industries.
'High Bar'
"Today's statement re-enforces our view that there is a high bar for further cuts as the Bank of Canada continues to sound optimistic about growth, sanguine about the long-term impacts of oil prices, and confident in a U.S. economic bounce back," Derek Holt, Scotiabank's vice-president of economics in Toronto, said Wednesday in a note to clients.
Canada's economy may show further signs of improvements with the rise in crude oil prices to just above $58 a barrel Tuesday from an intraday low of about $42 in March, and a potential boost to exports from the Canadian dollar's 6.5 percent decline against the U.S. dollar this year. The U.S. consumes about three quarters of Canada's exports.
Consumer prices advanced 0.8 percent in April from a year earlier, according to Statistics Canada. At the same time, core inflation of 2.3 percent is close to the fastest since 2008. The central bank reiterated today the underlying trend of inflation is 1.6 percent to 1.8 percent, reflecting slack in the economy.
'Remains Appropriate'
The bank said in April that economic growth will quicken to a 1.8 percent annualized pace in the second quarter and then to a 2.8 percent pace in the third. Those forecasts won't have a full revision until the next monetary policy report in July.
"The Bank judges that the current degree of monetary policy stimulus remains appropriate," policy makers said.
To be sure, companies are reporting setbacks beyond the first quarter. Trican Well Service Ltd. said May 13 it reduced its workforce by a third and suspended its dividend.
Those are the kinds of cuts that will push the energy-rich province of Alberta into a recession this year as output contracts 1.5 percent, the Conference Board of Canada predicts. The $40 billion of lost oil revenue and a 23 percent drop in energy investment will hurt Alberta and slow Canada's growth to 1.9 percent this year from 2.4 percent in 2014, the board said this month.
The statement also said that risks to financial stability remain "elevated," language that in the past has referred to high home prices and consumer debt loads.
Before it's here, it's on the Bloomberg Terminal.
LEARN MORE