A Bank of America Analysis Says YouTube is Worth More than 85 Percent of Companies in the S&P 500
"A big asset that warrants a big valuation."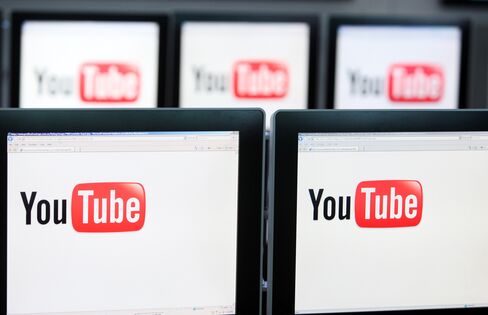 In a note out this morning, Justin Post and his team at Bank of America Merrill Lynch say that YouTube, which is owned by Google, is worth more than $70 billion on its own.
According to Bloomberg data, only 66 companies in the S&P 500 have a higher market value.
If you raise that to the potential $80 billon to $90 billion that Post goes on to say is possible, only 59 and 55 companies in the S&P 500 are valued at higher levels, respectively.
To put this in perspective, Time Warner and Twenty-First Century Fox each have a market cap of just under $70 billion. BlackRock, Hewlett-Packard, Ford, Dow Chemical and General Motors also fall below the $70 billion mark.
The BofAML analysts estimate that YouTube will add three points of growth to Google's website revenues in 2015 and should continue to offset a deceleration in search as it grows in scale. Based on BofAML's projections for growth in the online video ad market, the analysts expect YouTube revenues to grow 34 percent to $8.2 billion in 2015, and to $13 billion by 2017, which would mean revenues more than doubling in the period between 2014 and 2017.
An $80bn valuation for YouTube, incidentally, would equate to more than a fifth of Google's $370 billion market value.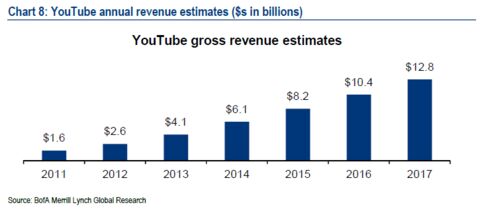 We estimate $8bn in revs in '15, growing to $13bn by 2017... Comps suggest a stand-alone valuation potential near $80bn YouTube user scale is massive at 1 billion monthly active users in over 75 countries. YouTube's US time spent per user (per Comscore) is 7hrs/month which trails Facebook, but is higher than Instagram and Twitter, and we estimate users watch 10 videos a day. Assuming a 7x rev multiple (discount to FB, LNKD, TWTR at 8x), we get to a $70bn potential valuation. Using social user and usage valuation comps, we could get to $80bn to $90bn, which is ~20% of total Google market cap.
Here are some impressive stats that the note points out:
YouTube has over a billion users, with 128 million in the U.S. alone.
The number of hours users watched on YouTube per month grew 50 percent year-on-year in 2014.
Some 300 hours worth of video are uploaded to YouTube every minute.
YouTube's mobile revenue was up over 100 percent year-on-year in the last quarter of 2014 and first quarter of 2015.
15 million partners receive payments from the YouTube network.
In the words of the analysts, YouTube is a "big asset" deserving of a "big valuation." In fact, it's one of the top destinations for mobile with half of YouTube views now coming from mobile devices.
On just mobile devices, YouTube has the second highest average time spent among social sites at 4 hour per month per user (7.4 hours including PC minutes), which is similar to Instagram at 4 hours, and above Twitter at 2 hours.

Pandora had the highest usage at 23 hours per month, followed by Facebook at 22 hours.

Before it's here, it's on the Bloomberg Terminal.
LEARN MORE