Time Warner Cable CEO Eligible for $85 Million Golden Parachute
Time Warner Cable Inc. Chief Executive Officer Robert Marcus could get at least $85 million if he's terminated within two years of Charter Communications Inc.'s acquisition of his company.
Marcus's compensation package includes $4.5 million in base salary, $15 million in continued bonus payments and stock awards valued at $57.3 million as of Dec. 31, 2014, according to the New York-based company's May 18 proxy filing. The equity is valued using Time Warner Cable's closing price of $152.06 at year end, the filing shows.
Charter, whose biggest shareholder is billionaire John Malone's Liberty Broadband Corp., offered to buy Time Warner Cable for about $55 billion. Marcus's pay package would trigger if he's terminated without cause within two years of the deal's completion or if he resigns for good reason, according to the filing. His equity payout would include a retention award that otherwise would've been paid in 2015 and 2016, according to the filing.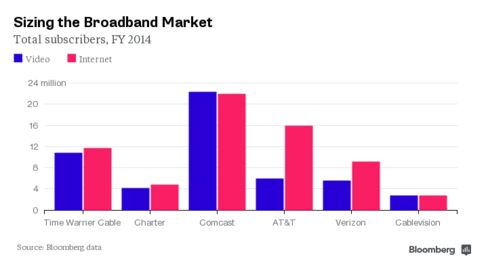 Eric Mangan, a spokesman for Time Warner Cable, declined to comment. The company rose 4.31 percent to $178.52 at 11:55 a.m. in New York.
Marcus was awarded $20.5 million in 2014, according to the Bloomberg Pay Index, a daily ranking of the highest-paid U.S. executives.
Before it's here, it's on the Bloomberg Terminal.
LEARN MORE