Jaguar Land Rover Profit Falls Most in Two Years on China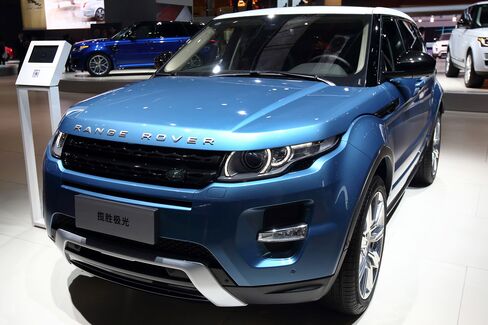 Jaguar Land Rover became the latest casualty of a slowdown in Chinese auto demand, reporting its steepest drop in quarterly profit in two years after retail deliveries slumped in the world's largest vehicle market.
Profit fell 33 percent to 302 million pounds ($465 million) in the three months ended March, the biggest decline since the quarter ended March 2013. That contributed to a worse-than-estimated drop in earnings at its parent, India's Tata Motors Ltd., which also faced a prolonged slump in demand for commercial vehicles in its home market. Shares of Tata Motors declined.
The result underscores the reliance of global automakers on China to drive profit growth and the extent of the slowdown in luxury demand after the government's campaign to stamp out graft and extravagance. Jaguar Land Rover said the introduction of new models, and conditions in China and Russia, may lead to lower Ebitda margins, or earnings before interest, taxes, depreciation and amortization relative to sales, this year.
"We see a certain slowdown in the market and we read that many competitors are going to reduce prices," Ralf Speth, chief executive officer of Jaguar Land Rover, said on a call with investors on Tuesday. "I can assure you that we will not be the very first ones to reduce prices because we're convinced we bring color to the Chinese market."
Jaguar Land Rover's retail sales volume declined in the quarter, with deliveries in China falling 20 percent. The company is seeing a changing Chinese market with more pricing pressure in more segments than in the past, Jaguar Land Rover Chief Financial Officer Kenneth Gregor said on a separate call.
Price Competition
China's slowing economy has prompted BMW AG to cut production and prices in the country. Intense competition is putting pressure on prices, and the automaker doesn't expect this trend to be reversed in the short term, Friedrich Eichiner, chief financial officer of BMW, said on May 6.
General Motors Co. cut its prices in China after reporting a decline in deliveries there last month, joining Volkswagen AG in stepping up discounts. Foreign automakers have also come under increasing pressure from local brands that are gaining market share by offering cheaper sport-utility vehicles.
Besides discounts, foreign automakers are offering incentives such as subsidized insurance, zero down payment, interest-free financing and higher trade-in prices, according to Sanford C. Bernstein.
Passenger-vehicle sales rose at the slowest pace in five months in April, with most of the expansion coming from local brands. Vehicle sales in China this year may rise by less than the 7 percent projected in January, the China Association of Automobile Manufacturers said last month.
Shares Drop
Tata Motors fell 5.2 percent to 471.75 rupees at the close in Mumbai trading, the biggest decline since Oct. 10. The stock was the worst performer on the benchmark S&P BSE Sensex, which advanced 0.1 percent.
The automaker's luxury unit has said it plans to unveil 12 new products, including upgrades and variants, this year. A new version of its XF sedan will be introduced in 2015 and the F-PACE crossover in 2016, Speth said yesterday.
"Jaguar Land Rover is more dependent on China than any other original equipment manufacturer, thanks to extraordinarily high pricing," Max Warburton, an analyst at Sanford C. Bernstein in Singapore who rates the Tata Motors stock the equivalent of a hold, wrote in a note to clients today. "Slowing premium growth, deteriorating pricing, and falling dealer profitability in China are all issues."
Before it's here, it's on the Bloomberg Terminal.
LEARN MORE