Baron Pierre de Coubertin is coming to the rescue of the French Open.
A Paris bid for the 2024 Olympics may end a decade-long standoff between the Grand Slam tennis tournament and neighbors over expanding its cramped facilities. Plans to cover the main court at Roland Garros, the site of the French Open, were first announced in 2004. But with the start of this year's tournament last Sunday, not a single brick has been laid as a loose coalition of local residents, environmental groups and politicians have fought proposals to expand the site, at 21 acres the smallest of the four major tennis tournaments.
"It's taking ages," tournament director Gilbert Ysern said in an interview, adding a possible Olympic bid "is an important leverage for us."
Ending the stalemate would help Roland Garros from falling further behind the competition. Its total prize money pot of 28 million euros ($31 million) is $10 million lower than the U.S. Open and Wimbledon.
The International Olympic Committee's measures to keep host cities' costs down "is an important thing for Paris, to be able to show that they already have excellent facilities for different sports," Ysern said.
Should it beat Hamburg, Rome and Boston in a 2017 vote, Paris would host the Olympics a century after it came to the French capital under the leadership of IOC founder de Courbertin.
It's hard to miss the extension plans at this year's tournament, which will see defending champion Maria Sharapova and 2009 winner Roger Federer in action today. Large billboards showing mock-ups of a new garden court in adjacent botanical gardens adorn the entrance gates and main show courts.
The latest proposals -- a $400 million plan to extend the home of the French Tennis Federation known as FFT with a roof over its main Court Philippe Chatrier and adding a 5,000-seat show court in the neighboring Jardin des Serres -- were put on hold in March following opposition from French Environment Minister Segolene Royal. She favors an alternative that involves partially covering a nearby motorway.
The FFT is supported by Paris mayor Anne Hidalgo and French Prime Minister Manuel Valls.
Ready in 2019
The alternative plans -- which won't be ready in time for 2024 -- are being discussed by the Paris City Council this week. Ysern said he was "pretty optimistic" and expected to get the necessary building permits next month. Construction can start before the end of the year and be completed in 2019. Olympic bid or not, environmental groups are vowing to block the work in the French courts.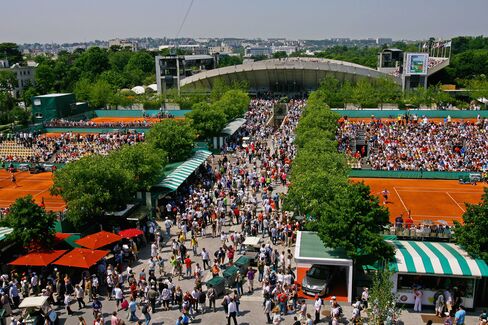 "If they do manage to get the permits, we'll attack it," said Alexandre Gady, president of Societe pour la Protection des Paysages et de l'Esthetique de la France, an association that protects French heritage sites and monuments. "It will take years."
Gady said some 63,000 people have signed a petition against a sports arena in the Jardin des Serres, which would involve the destruction of some greenhouses that house turtles.
"There is no space here," Gady said. "They have to force their way into someone else's space."
A 2009 plan to build a new 120 million-euro stadium near Roland Garros was shelved because of a lack of consensus among local politicians. Four years ago, the FFT opted for the gardens after turning down a move near the Palace of Versailles or to Marne-la-Vallee, where Disneyland Paris is based.
Gady called the decision to stay in the city "completely crazy," because the French Open will run out of space within 15 years.
Retractable Roof
For Ysern, it's either extend, or fall behind. The other three majors will all have a main stadium with a retractable roof once the U.S. Open finishes the Arthur Ashe Stadium cover in 2016.
Earlier this week, organizers of the Wuhan Open in central China told Bloomberg News they're spending $161 million on a stadium court with 15,000 seats, 180 more than at Chatrier and as big as Wimbledon's Centre Court.
Covering the main court would allow Roland Garros to avoid rain delays and hold night sessions. It will boost attendance by one-third to 600,000, while Ysern also expects higher corporate hospitality sales and television revenue.
The French Open, which has been held on the red clay courts on the edge of the Bois de Boulogne in western Paris since 1928, generates 289 million euros for the country's economy, according to the French Economic Information and Forecast Office.
Although players often complain about its cramped facilities, particularly when it rains, they don't want to see it leave the capital.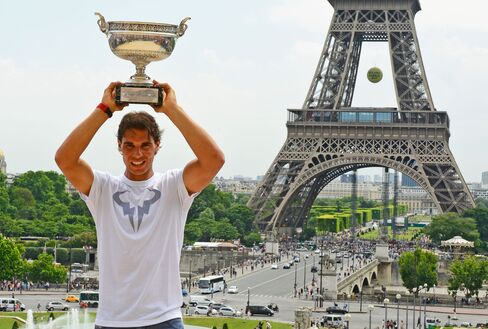 "Roland Garros is tennis and Roland Garros is Paris," nine-time champion Rafael Nadal said last week after receiving the city's most prestigious honor, the "Grand Vermeil," from Hidalgo.
"It's pretty obvious that Roland Garros is something very good for France," Ysern said. "Together with the Tour de France it's one of the events that contributes to making our country visible all over the world for two weeks every year."
Before it's here, it's on the Bloomberg Terminal.
LEARN MORE