One of the Biggest Tech IPOs of All Time Is Getting Bought by a Teen Clothing Store
From hardware company to e-tailer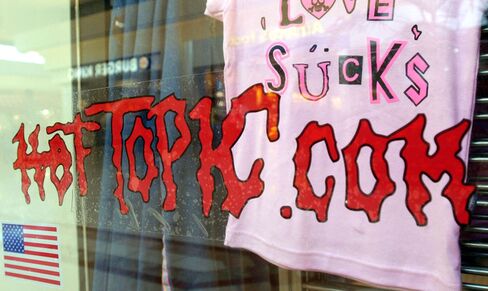 Hot Topic, the fashion staple of suburban malls everywhere, announced today that it is buying Geeknet, the parent company of ThinkGeek, an online retailer catering to video game and sci-fi fans. While it may not rise to the M&A heights of Charter and Time Warner's $55 billion deal, it did ignite a bit of nostalgia for the tech boom of the late 1990s.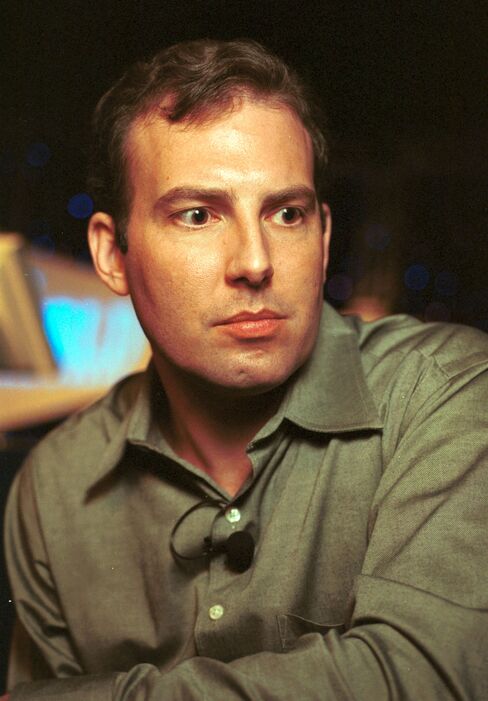 You see, Geeknet used to be known as SourceForge, which used to be known as VA Linux Systems, which — depending on your point of view — once had the most successful IPO of all time. Or the most disappointing. Founded in 1993 by Larry Augustin, the company was one of the first to sell personal computers with the open-source Linux operating system pre-installed. In 1999, while riding the peak boom years of the first dot-com bubble, they went public, shattering records for opening day pops.
Red Hat, the company that produced Linux had gone public earlier in the year and was a smashing success. Another hot software company, Corel, declared that within five years, "half of our revenue will be coming from Linux." Positioning itself as a legitimate challenger to Microsoft's Windows dominance, enthusiasm was running high.
How high? VA Linux was given an official IPO price of $30 per share on December 9, 1999. The first actual trade went off at $299. It reached $320 that first day, before closing at $239.25, a 698-percent gain over the opening offer. To this day, it remains the largest first-day gain in Nasdaq's history.
That victory didn't last long, however. Just one day later, the stock was down to $218 and by February it was nearly half that. Within a year, like many other former stars of the tech boom, VA Linux was trading in the single digits. Because the offering price was so low compared to what the market was paying, the company didn't actually raise much capital. Almost immediately investors began suing, believing the banks conspired to drive up the price. Augustin, who was a paper billionaire on IPO day, saw his fortune fall below $100 million. Just 18 months after the IPO, the company was out of the hardware business altogether, changing its name again and laying off dozens of employees.
Take a look at the stock chart dating all the way back to the IPO. (Note: Geeknet did a 1-to-10 reverse stock split in 2010, which is why the price appears to be in the $2,000 range.)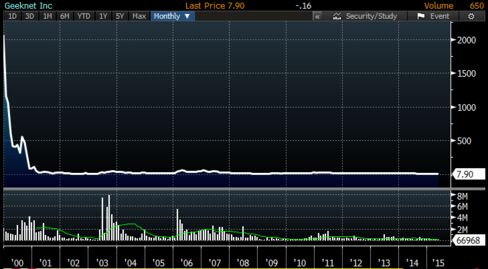 The company soldiered on as a software developer and later as an e-commerce outfit, turning its first profit in 2006. The company eventually became Geeknet in 2009 (and was briefly led by ex-CEO and current board member Ken Langone.) Today, its primary business is ThinkGeek, a online store that specializes in clothing, trinkets, gifts, and other assorted collectibles that cater to the more nerdy side of pop culture. (Light up lightsaber chop sticks, anyone?)
Founded in 1999, it was gathered up by VA Linux as part part of a large acquisition shortly after the IPO. The other sites it was acquired with are gone, but ThinkGeek will make a nice companion to Hot Topic's existing stores.
The stock still trades in the single digits, but in one final throwback to the exuberance of the 1990s, Hot Topic has offered them a purchase price of $17.50 per share — a premium of 122 percent over the last close.
Before it's here, it's on the Bloomberg Terminal.
LEARN MORE