Nigeria Fuel Crisis Delays AfDB Guests Spending More to Fly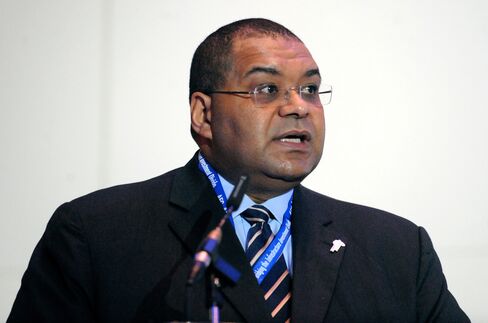 Nigeria's worst fuel crisis in a decade disrupted travel outside of the country as delegates attending a key banking conference in Ivory Coast were left stranded or forced to pay additional costs after planes were grounded.
Arik Air Ltd., Nigeria's biggest airline, delayed or canceled dozens of flights since the weekend as guests prepared to make their way to Abidjan to attend the African Development Bank's annual meeting. The conference draws finance ministers and central bank officials from across the continent and is a networking opportunity for bankers.
Andrew Alli, the chief executive of Africa Finance Corp., spent extra money on backup travel plans rather than miss the event. His team booked flights from Lagos, Nigeria's main international travel hub, to Abidjan via Ghana's capital, Accra, and Lome in Togo, on different airlines.
"This is one of the hidden costs of doing business within Africa," Alli said in an interview at the AfDB meeting on Tuesday. "We knew there was a fuel strike in Nigeria and it had been affecting domestic flights. As a precaution, as we felt it would start to affect international flights, we booked a second flight to Abidjan."
Flying in West Africa is often beset with difficulty due to under-equipped fleets, departure schedules that demand long layovers, strict visa regulations, and costly tickets. The number of air passengers traveling both domestically and internationally in Nigeria surged to 3.75 million in 2013 from 520,263 in 2003, according to World Bank data.
Infrastructure Gap
Greater competition among airlines may be an economic stimulus for the region, according to the International Air Transport Association, an airline trade group. Easing of restrictions in 12 key markets would add an extra 155,000 jobs and $1.3 billion to annual gross domestic product, Tony Tyler, director general of the group, said in a July report.
A big focus of the AfDB's work and its annual conference is on expanding infrastructure on the continent to help spur investment and reduce the cost of doing business. The bank estimates African nations need to spend $93 billion each year until 2020 to help fix power shortages, inadequate water supplies and expand transport and Internet networks.
A lack of oil refining capacity means Nigeria suffers frequent fuel shortages even though it's Africa's biggest crude producer of about 2 million barrels a day.
Banks Shut
The latest crisis shut banks and threatened operations of businesses including MTN Group Ltd., the biggest mobile-phone company on the continent. Gasoline and diesel retailers had halted distribution because they said the outgoing government of President Goodluck Jonathan owed them about $1 billion in outstanding payments.
President-elect Muhammadu Buhari will take over from Jonathan on May 29, causing anxiety among the fuel marketers that the new government may take longer to pay the claims. They agreed late on Monday to resume supplies.
The fuel shortage is "a sign of a poor management which will disappear very soon," former Nigerian President Olusegun Obasanjo said in an interview in Abidjan. "We should not worry about it. It's an aberration. An aberration comes and goes."
Before it's here, it's on the Bloomberg Terminal.
LEARN MORE