Next Argentine President Ready to Fix Economy, Quickly or Slowly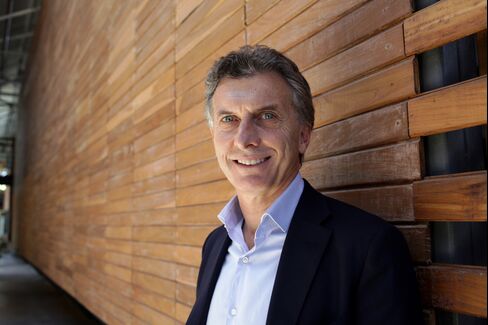 The baroque opera that is Argentine presidential politics is about to open a new act with two main characters -- a one-time kidnap hostage calling for economic shock therapy and a one-armed speedboat champion who says to take it slowly.
For the past dozen years, the inhabitant of the pink presidential palace has been named Kirchner, first Nestor, who died in 2010 from a heart attack, and then his widow Cristina Fernandez de Kirchner, both in the Peronist protectionist tradition.
In October, voters will weigh in and polls show a tight race for a job not everyone would relish -- leading a country mired in default, hemmed in by litigating hedge funds and ravaged by economic stagnation and double-digit inflation.
Mauricio Macri, 56, the former hostage and current mayor of Buenos Aires, has cast himself as the change agent. He pledges to end currency controls, import restrictions and export tariffs to bring in investment and offset outflows forecast at half the central bank's reserves.
Markets would react to a Macri victory with euphoria, according to Siobhan Morden, head of Latin American fixed income strategy at Jefferies Group LLC in New York, but that may underestimate how difficult the controls are to dismantle.
Polls show Macri about even with his main competitor, Daniel Scioli, the governor of Buenos Aires province and former world speedboat champion who belongs to the ruling Victory Front alliance.
Boom, Bust
While agreeing that change is needed, Scioli says it should come only gradually.
Whoever wins, the next government will need to ween Argentines off costly subsidies and price controls without putting hundreds of thousands out of work and slashing living standards.
It has been a wild ride in recent years with benchmark bond prices swinging from 50 to 103 cents on the dollar and analysts are divided on the best path to stability. The economy went from collapse and default in 2001 to a boom that tripled income per capita in the nine years to 2012 and then back to stagnation and default.
A U.S. judge is blocking payments on some foreign debt until the government settles with a group of hedge funds suing for better terms. Macri has said the ruling should be respected while the government vilifies the judge as a "vulture."
"Change through shock policies could result in an abrupt and perhaps counterproductive normalization," Mauro Roca, senior economist at Goldman Sachs & Co., said by phone from New York. "On the other hand, if you go very gradually you'll reach a point where other issues take priority and you don't see the fruits of any changes."
Statistical Tie
A poll by OPSM showed Scioli and Macri about even -- 32.2 percent for Scioli and 29.9 percent for Macri with a margin of error of 2.5 percentage points. Sergio Massa, who also vows to eliminate currency controls and lower taxes on grain exports, got 13.6 percent. The nationwide house-to-house poll canvassed 1,200 intended voters between May 8 and May 22.
Scioli and Macri -- both of whom declined to be interviewed for this article -- came to politics indirectly. Macri, a civil engineer, worked for his father's construction company and briefly as a credit analyst at the local unit of Citibank.
Boca Juniors
He got his first real taste of the spotlight when as president of Boca Juniors Football Club for 12 years, he modernized Argentina's biggest soccer club. He refurbished the 'Bombonera' stadium and signed stars such as Diego Maradona, Juan Roman Riquelme and Carlos Tevez, paving the way for a golden age for the club which won 16 trophies.
Macri said his interest in politics dates from his 1991 kidnapping. Ambushed outside his home, he was forced into a coffin in a Volkswagen van, La Nacion reported in 2001, citing court documents. For 12 days, he was chained to a basement floor blocks from his current city hall office before his father paid $6 million for his release. Macri rarely talks publicly about what happened.
After two years as a lawmaker, Macri was elected mayor of Buenos Aires in 2007, winning re-election in 2011.
Scioli's family owned an electrical appliance business and he made his name as an offshore powerboat racer. Early in his racing career, in 1989 on Argentina's Parana river, his boat hit a wave and flipped. He lost his right arm. Fitted with a prosthetic arm, he was back in a speedboat a year later and went on to win several world championships before retiring in 1997.
Less Dramatic
At the same time he won the concession to be distributor for Electrolux, the Swedish household appliance maker. Scioli, 58, was vice president under Nestor Kirchner for four years.
Married, divorced, then back together with the same woman, Karina Rabolini, a former model with her own underwear and cosmetics line, Scioli is often seen campaigning alongside her.
Scioli's economic plans are less dramatic than Macri's. In contrast to the mayor, he's been supportive of the decision to default on the nation's debt rather than comply with a court ruling and pay the litigating holdouts. He says he wouldn't devalue the peso.
Mocked for speeches that are often bland and substance-free, Scioli may actually be closer in outlook to Macri than at first appears, according to Jose Octavio Bordon, a former diplomat and presidential candidate. "At root his ideas aren't all that different," he said.
'Two Sciolis'
While Macri may be the market favorite, Scioli's track record in the province, which accounts for half of the country's gross domestic product and where he changed the tax code, has impressed economists. In 2014, the province posted a budget surplus for the second straight year.
In the absence of policy content in his public declarations, many turn to his advisers for signs of what he might do as president.
Argentina should aim to pay 70 percent of the $1.6 billion awarded to the holdouts because about 45 percent of the sum awarded to litigants stems from excessive interest rates of about 12 percent charged on the debt, economist Miguel Bein said Wednesday at a conference in Buenos Aires. He also said Argentina should lift import and export restrictions while focusing on bringing back some of the $200 billion estimated to be held by Argentines abroad through establishing clear rules that would protect savings in the country.
It's difficult to predict whether Scioli will be able to step out from Fernandez's shadow to be able to implement changes, said Javier Kulesz, an analyst at Nomura Securities International Inc.
"There are potentially two Sciolis the market should contemplate, one advocating policy continuity and another one policy change," Kulesz said. "Instead of having three presidential candidates with a shot at becoming president, we practically have four."
Before it's here, it's on the Bloomberg Terminal.
LEARN MORE