Entrepreneur Granny May Become Podemos's Mayor of Madrid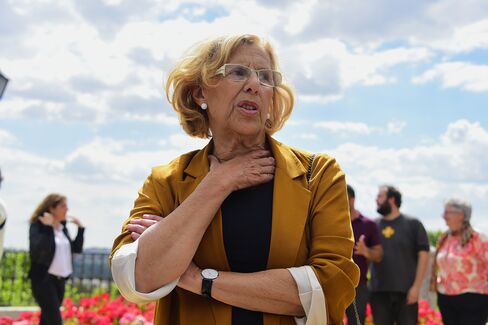 Lourdes Nunez, an Ecuadorian immigrant, was on the Madrid metro with her baby when pensioner Manuela Carmena asked why the child wasn't wearing shoes.
They struck up a conversation. By the time they parted Carmena had offered Nunez a job at the nonprofit she'd set up with a group of fellow retirees.
It was a moment typical of 50 years of social activism by Carmena, now 71. After winning more than half a million votes in Sunday's local election, she may get a chance to apply her approach as mayor of the Spanish capital.
"We're going to train people and we're going to help society," Carmena said in a telephone interview Tuesday from Entrepreneur Grannies, the nonprofit she helped establish and where she still helps. "There's going to be more of this in Madrid."
A lawyer focused on human and labor rights who served on an oversight council for the nation's judges, Carmena ran in Sunday's ballot as the head of a group backed by Podemos, the anti-austerity party. She secured 20 delegates in the 57-seat chamber.
To become mayor, she'll need the support of other parties and while there is much negotiation ahead, the fact that she is so close is a sign of the profound unrest that has settled into Spanish politics. She ran as a woman of the people facing an aristocrat.
"I can see myself as mayor and I think I will be mayor," she said.
Stopping Podemos
Her main opponent was Esperanza Aguirre, doyenne of the pro-market wing of the governing People's Party which has controlled Madrid since 1991. Aguirre, 63, won 21 seats on Sunday, 10 fewer than her party had in 2011, and offered to support the Socialist candidate in a bid to prevent Carmena taking office.
The Socialists rejected her proposal.
"Carmena is an excellent candidate," Socialist candidate Antonio Carmona told reporters on Wednesday. "She's a very good person. I can't say anything negative about her."
The Socialist position shows how the PP's tactics of attempting to demonize Carmena backfired. Aguirre's portrayal of Carmena as something less than a democrat with sympathy for extremist groups ended up boosting her support.
"Carmena's positive messaging during the campaign was a key factor that mobilized left-wing voters," said Antonio Barroso, a political risk analyst at Teneo Intelligence in London. "Aguirre ran a negative campaign that not only helped Carmena to increase her name recognition but also allowed her to present herself as the reasonable politician."
Worker's Rights
Carmena began as a labor lawyer defending workers and prisoners during the Franco dictatorship. In 1977, during the transition to democracy, five of her colleagues were killed when nationalist extremists attacked her office in a rundown neighborhood of central Madrid. She went on to become a judge and throughout her career paid special attention to victims of police abuse.
"She's the kind of lawyer that students who want to change the world should be inspired by," Podemos's leader, Pablo Iglesias, said on his Youtube television show.
Since retiring as a lawyer at the height of Spain's economic crisis in 2010, Carmena's become increasingly active helping the unemployed in some of the capital's rougher neighborhoods.
Nunez, the Ecuadorian immigrant, helps run Entrepreneur Grannies' shop in Malasana, a hub for progressive culture in central Madrid. The company sells shoes, clothes and toys, some of them designed by Carmena. Many are produced by inmates from two women's prisons and carry a tag with the prison's location.
'Democracy is Beautiful'
Some of the clothes are produced in the working class neighborhood of Orcasitas in the south of the capital. The former shantytown has a tradition of workers' movement but today its largely immigrant population is ravaged by unemployment.
Entrepreneur Grannies joined forces last summer with two workshops in the area that provide jobs and training to high-school dropouts and young people from low-income families.
"It's been a lifeline," said Fernando Saleta, the head of the workshop collective, who uses a wheelchair. "The crisis has been really tough on us. When the prime minister says the economy is improving, I want to smash my television. It's not the case here."
While Prime Minister Mariano Rajoy is pinning his hopes of re-election on the recovery that has made Spain one of Europe's fastest growing economies this year, Carmena is focusing on the millions who remain unemployed or living in poverty with the jobless rate at 24 percent. She is hoping to spread her message of large-scale empowerment.
"There are people who are entrenched in fear," she said. "That's a mistaken attitude, though it's human. Democracy is beautiful and it works because everyone feels capable of influencing the world."
Before it's here, it's on the Bloomberg Terminal.
LEARN MORE