French-German Euro Plan Snubs Cameron's Demand for Treaty Change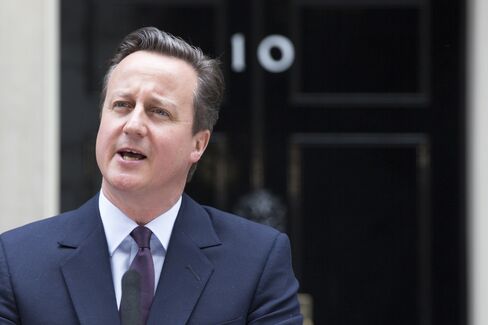 France and Germany proposed tweaking the management of the euro zone within the existing legal framework, in a snub to U.K. Prime Minister David Cameron's plea for a wider-ranging overhaul of the European Union.
French-German proposals for better coordination of euro economic policies would rule out the EU treaty revision Cameron is seeking in his campaign to persuade the British to stay in the bloc.
European guidance for national policies should focus on "a more limited number of priorities and important challenges," a French-German paper seen by Bloomberg said. The next euro reforms can be enacted "in the framework of the current treaties."
While Britain is outside the euro, the ideas are a reminder that the 19 countries on the inside make up the bulk of the EU and look to France and Germany for leadership.
As Cameron travels the continent to drum up support for a renegotiation, the proposals also show that Britain's agenda -- driven largely by objections to immigration -- isn't the top priority elsewhere in Europe.
The German-French paper feeds into a longer-term debate over how to make the euro economy more competitive and minimize the risk of repeating debt crisis that still threatens to eject Greece from the euro.
Tightening Coordination
A German government spokesman said that both his country and France share a common desire to push euro-area economic union and this is the focus of their joint policy. A spokesman for the French Foreign Ministry didn't immediately respond to a phone call seeking comment.
European Commission spokesman Margaritis Schinas called the paper a "useful, pertinent" contribution.
The two governments, the traditional drivers of EU integration, urge better implementation of existing policies, improved international representation of the euro, and "dedicated structures" for the euro zone in the European Parliament.
Policy coordination was tightened after the debt crisis erupted in 2010, and there has been little appetite to go further. The joint paper omits both the binding economic contracts once sought by Germany and the debt pooling that has found favor in France.
Euro-zone governance will be a topic at a European summit in late June.
Before it's here, it's on the Bloomberg Terminal.
LEARN MORE