Foxconn Unit Seeks the Next Xiaomi in India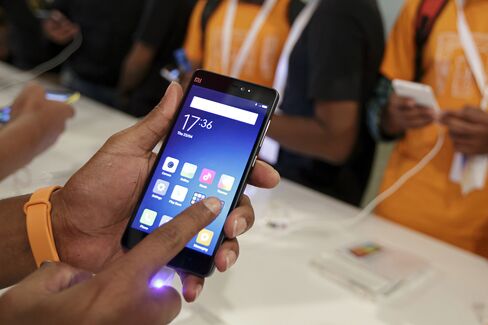 For FIH Mobile Ltd., being the unit of Foxconn Technology Group that doesn't make iPhones has been a challenge.
Its former name, Foxconn International Holdings Ltd., was constantly being confused with the parent, while its business model was tied to fading phone labels including Nokia and Sony. So it changed both.
Two years later, FIH has a new marquee client in fast-growing smartphone brand Xiaomi Corp. and vastly-improved earnings. In anticipation of shipments climbing 50 percent this year, it's now looking to India in its hunt for the next big thing after profit doubled in 2014.
"We need to find our own way back to glory, because we were making huge losses," FIH Chairman Vincent Tong said in an interview. "Two to three years ago when we started to help Xiaomi they were nowhere to be found or heard, we believed that was the right business model."
A bet on undiscovered brands over established international names paid off. Revenue climbed 37 percent last year to the highest in five years while net income surged to the most since 2007. That growth also outpaced the 6.6 percent increase in sales at Hon Hai Precision Industry Co., the largest member of billionaire Terry Gou's Foxconn Technology Group which gets about half its revenue from making Apple Inc.'s iPhones and iPads. Hon Hai owns 65 percent of FIH.
Unique Model
"Their future is in continuing to find emerging names like Xiaomi as well as India, which is the fastest-growing smartphone market in the world," said Jitendra Waral, a Hong Kong-based analyst at Bloomberg Intelligence.
Shares of FIH rose 2.9 percent to HK$4.30 in Hong Kong, the biggest advance in two months. The Hang Seng index dropped 0.6 percent.
When Beijing-based Xiaomi first approached FIH to make its smartphones, what caught the eye of senior executives was the company's then-unique business model of promoting its brand online and selling directly to consumers, cutting out retailers and wireless network operators.
"Honestly, I wouldn't say we knew they were going to be a winner," Tong said.
For the past two years, the fortunes of Xiaomi the brand and FIH the supplier have been intertwined, each accounting for more than half of the other's shipments. FIH made 25 million smartphones in 2013, around 50 million last year and will boost that by 20 million to 30 million this year, Tong said. Xiaomi sold 61 million phones last year and has set a target of 100 million units for 2015.
India Production
"Xiaomi has a great collaboration with Foxconn as they are our largest supplier, and we will continue to cooperate closely with them," the company said in an e-mail response to Bloomberg.
FIH profit this year will outpace sales because FIH is supplying more of the high-margin components that go into phones in addition to final assembly, Tong said.
He declined to provide a forecast beyond saying "the street has a pretty good estimate of where we are going." Revenue will rise 6 percent and net income 38 percent, according to the average of analyst estimates compiled by Bloomberg.
Reducing FIH's reliance on Xiaomi and finding new growth in India and other emerging markets is being partly driven by a push to avoid the problems of the past, when the top three customers accounted for 80 percent of sales.
That includes adding Micromax Informatics Ltd. as a client, which is battling with Samsung Electronics Co. for the title of the biggest smartphone vendor in India.
New Clients
FIH will assemble its first smartphones in India before the end of this year, prompted by Prime Minister Narendra Modi's decision to raise import tariffs, Tong said. The company will have multiple sites in the country, none employing more than 10,000 workers, he said.
"We still see the growth rate will be in the emerging market brands," he said.
India could see smartphone sales of 85 million to 100 million this year in a region where emerging Asia-Pacific markets will collectively outpace China over the next four years, Tong said, citing figures from Gartner Inc.
Advantages from being one of the first into India combined with a diversified customer base and manufacturing experience make FIH "uniquely positioned to capture the sustainable business opportunity," analysts at Jefferies Group LLC led by Ken Hui, said in a report.
Other new clients for FIH Mobile include China's Guangdong Oppo Electronics Co. and OnePlus to supplement Huawei Technologies Co., Xiaomi, Sony Corp., Motorola and BlackBerry Ltd. That will spread 70 percent to 80 percent of sales among five clients, Tong says.
"Manufacturing is obviously where the employment and middle class build up will be coming from," Tong said. "I think that India has come to realize that, and deal with it more seriously, and that, coupled with the market opportunity, creates for us an opportunity to reenter the market."
Before it's here, it's on the Bloomberg Terminal.
LEARN MORE