For Cable Subscribers, Little Hope to Get Better Satisfaction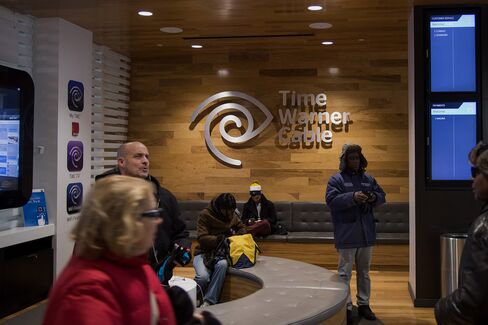 Time Warner Cable Inc. subscribers anticipating to get better customer service from Charter Communications Inc. are in for disappointment.
The 15 million Time Warner Cable users from New York to Los Angeles are probably keenly aware of the low marks their provider gets when it comes to customer service. Charter, which agreed to buy the company Tuesday, doesn't fare much better.
Time Warner Cable subscribers "are going to see a new parent that has its own fairly long history" with lackluster customer service, said David VanAmburg, managing director of the American Customer Satisfaction Index, or ACSI.
Time Warner Cable ranks at the bottom of the most recent survey of the ACSI, which measures customer satisfaction for 43 industries. Charter shares the next-to-last position with Comcast Corp., which dropped its plan to buy Time Warner Cable last month.
Charter and Comcast are "virtually indistinguishable as far as pricing, reliability and customer service," VanAmburg said. So in that regard, Time Warner Cable users wouldn't have been better off with the provider's former suitor.
Customer service tends to suffer for about a year after a merger is completed, he said. During the integration, subscribers can mistakenly get billed twice -- by the old company and the new one -- or their service gets shut off. "It's very hard to put these two entities together and not have some glitches," VanAmburg said.
Charter, the No. 4 in the industry, is spending $55 billion to purchase No. 2 Time Warner Cable, adding 11 million cable subscribers and 12 million high-speed Internet users. Charter and its main shareholder, billionaire John Malone, clinched the deal on their second attempt after Comcast jumped in with a competing proposal last year. They got another shot after the Comcast deal collapsed in the face of regulatory hurdles.
The new company combines Charter's 6 million customers in St. Louis and other smaller markets with Time Warner Cable's 15 million subscribers in big cities like New York City and Los Angeles. A side transaction also brings Bright House's 2.5 million customers, who lives mostly in Florida.
Faster Broadband
Charter Chief Executive Officer Tom Rutledge, who will become head of the combined company, said the deal would provide several consumer benefits. Charter's broadband speeds are "considerably faster and less expensive" than Time Warner Cable's, he said. And the combined company will include more Wi-Fi hot spots that could be used to someday introduce a mobile phone service. In addition, Charter has no plans to limit how much data subscribers use online, Rutledge said, something that Time Warner Cable and Comcast have experimented with.
"Our new company will drive significant investments into America's broadband infrastructure, delivering faster broadband speeds, better video products, and more competition and innovation into the marketplace," Rutledge said Tuesday during a conference call.
Charter's customer-satisfaction scores "are headed in the right direction," said spokesman Alex Dudley. Charter has added 7,000 new customer-service representatives since 2012 and plans to bring back Time Warner Cable's customer-service jobs that are currently handled overseas. Charter doesn't charge fees for leasing modems, offers fewer tiers of service that are less confusing for customers, and plans to integrate video content from online services like Netflix into its cable-TV service, he said.
The bigger company would also have more negotiating power with TV programmers, which in turn could keep cable-TV prices from rising for consumers.
Another plus for Time Warner Cable subscribers: Charter is "much more transparent with customer bills," according to Amy Yong, an analyst at Macquarie Group Ltd. Time Warner Cable has relied heavily on discounted pricing to attract new subscribers, then increased their bills after the first year, she said. Charter "takes the long-term view" and doesn't offer as much promotional pricing, meaning customer bills stay about the same, Yong said.
Not as Cutting-Edge
Provided the merger gets approval from regulators, Charter will have more resources to invest in new technologies that will benefit Time Warner Cable subscribers, said Craig Moffett, an analyst at MoffettNathanson. Still, Comcast has a multiyear head start on Charter, Moffett said.
"It may take some time before the benefits of being a Charter subscriber catch up to what would have been possible out of the gate with Comcast," Moffett said.
For instance, Comcast's TV product, X1, which lets customers store recorded TV shows in the cloud and watch them on mobile devices, is considered to be the most advanced in the cable industry.
"Comcast has probably done the best job investing in their product and broadband speeds and investing in programming," said Paul Sweeney, an analyst at Bloomberg Intelligence. "Time Warner Cable subscribers could have anticipated an improvement with their service with Comcast. With Charter, it's less clear that they're better off now."
Cable companies, facing waning demand for their traditional TV packages of dozens of channels -- many of which are never watched -- have been boosting their high-speed Internet services to make up for the loss of subscribers. With the transaction, Charter will almost quadruple its broadband customers to 19 million, close to Comcast's 22 million.
Will the merger lower customers' bills? Don't count on it, Sweeney said.
"It's almost unheard of for consumers' cable bills to go down as a result of a merger," Sweeney said.
Before it's here, it's on the Bloomberg Terminal.
LEARN MORE