Five Things Everyone Will Be Talking About Today
The long weekend is over, get caught up here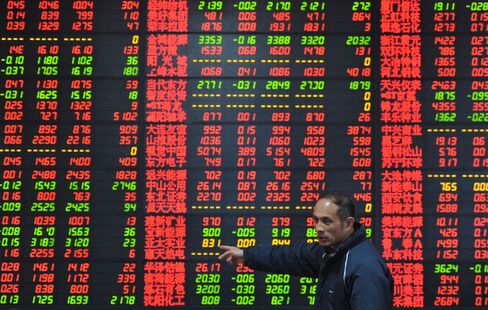 Chinese stocks surge, Varoufakis blames creditors and Charter Communications finally strikes a deal with Time Warner Cable. Here are some of the things that people are talking about in markets today.
Chinese stocks soar
The Shanghai Composite has just put together its biggest six-day rally since November 2008. Over 250 stocks on the Shenzhen Composite rose by the 10 percent limit today, the overall index has now surged over 100 percent this year alone.
The Yuan is no longer undervalued
That's according to the International Monetary Fund: After strengthening over the past five years, the IMF has changed its view on the Chinese currency. The move, although largely expected, underscores China's push for the Yuan to win reserve status.
Varoufakis blames creditors
Greece needs to come up with about €1.6 billion to pay the IMF next month. The Greek interior minister said the payments are an obligation that won't be met unless a deal with creditors is secured. A breakthrough remains elusive. In a Project Syndicate op-ed, Greek Finance Minister Yanis Varoufakis has lashed out at creditors for the deadlock.
Not just another telecoms deal
Charter Communications has agreed to buy Time Warner Cable in a $55 billion cash and stock deal. Charter made a move for the No. 2 U.S. cable company last year but that bid was rejected and Comcast made a competing offer. The Comcast/Time Warner Cable deal collapsed last month, reopening the door for Charter.
Coming up...
Lots of U.S. data comes out this morning, including durable goods orders at 8:30 a.m. ET. Services PMI is due at 9:45 a.m. ET. New home sales, Consumer Confidence and Richmond Fed manufacturing are all due at 10 a.m. ET. Dallas Fed manufacturing is due at 10:30 a.m. ET.
Before it's here, it's on the Bloomberg Terminal.
LEARN MORE