Electronic trading accounts for more than half of the $5.3 trillion-a-day foreign-exchange market for the first time, according to a Euromoney Institutional Investor Plc survey, as clients seek more transparency after rate-fixing scandals.
Electronic platforms represented 53.2 percent of dealing this year, the first time they've accounted for the lion's share of trades in the survey's 37-year history, Euromoney said in a statement. Citigroup Inc. was the biggest dealer overall for a second year, though Deutsche Bank AG said it pipped its rival to the top spot for electronic trading.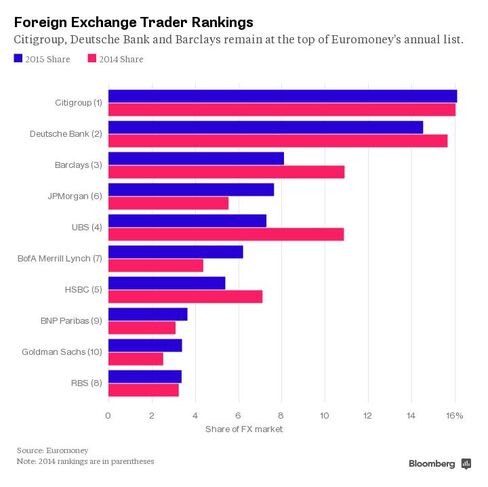 Citigroup took a 16.11 percent overall market share, beating Deutsche Bank's 14.54 percent, according to Euromoney. Barclays Plc was the third-largest trader for a fourth straight year, with an 8.11 percent share.
"We're going to see a gradual takeover of electronification," Javier Paz, a senior analyst at Boston-based consulting firm Aite Group LLC, said by phone. "Transparency is something regulators have been able to increasingly drive home with providers and it's something that's enhancing the confidence of users."
Traders are facing the challenge of how to rebuild confidence in the foreign-exchange market after banks paid billions of dollars in penalties to U.S. and U.K. regulators for colluding to manipulate key benchmarks and overcharging customers. Electronic currency platforms may offer a cheaper and faster alternative to traditional brokers.
'Grow Apace'
"Client usage of the electronic channel continues to grow apace," said Ahmet Arinc, global head of foreign exchange at Deutsche Bank in London. "We were one of the first banks to set up an electronic FX trading platform for clients."
Spokesmen for Citigroup and fifth-placed UBS AG declined to comment on the survey results, while messages left with Barclays weren't returned.
The growth of electronic trading may also reflect a reshaping of the industry in the wake of the investigations. Switzerland's Financial Market Supervisory Authority last year directed UBS to use electronic platforms to perform at least 95 percent of its foreign-exchange trades to limit the scope for manipulation.
The Euromoney rankings are drawn from a survey of traders in the foreign-exchange market. This year's was based on 3,794 responses, representing $123.6 trillion of turnover, down from 14,050 responses and $225 trillion last year after a change to the methodology, London-based Euromoney said.
Waning Dominance
JPMorgan rose to fourth position in the rankings, from sixth last year, with 7.65 percent of the market. UBS was ranked fifth with 7.3 percent.
The top five banks are losing their grip on the market, with their combined market share declining for the first time in four years, according to the Euromoney data. The banks accounted for 54 percent of trading, the least since 2011 and down from about 60 percent in 2014.
Electronic trading accounted for just 38.5 percent of total volumes in 2012, according to Euromoney's data.
"Electronic trading is good for trading, good for transparency and good for regulatory compliance," said Marshall Bailey, Paris-based president of the ACI Financial Markets Association, which represents more than 13,000 members working in financial markets.
Bank                2015                     2014
                    Rank      Share (%)      Rank      Share (%)
Citigroup           1         16.11           1        16.04
Deutsche Bank       2         14.54           2        15.67
Barclays            3          8.11           3        10.91
JPMorgan            4          7.65           6         5.55
UBS                 5          7.30           4        10.88
BofA Merrill Lynch  6          6.22           7         4.38
HSBC                7          5.40           5         7.12
BNP Paribas         8          3.65           9         3.10
Goldman Sachs       9          3.40          10         2.53
RBS                10          3.38           8         3.25
Before it's here, it's on the Bloomberg Terminal.
LEARN MORE