China Said to Name Graftbuster to Lead Scandal-Struck Spy Agency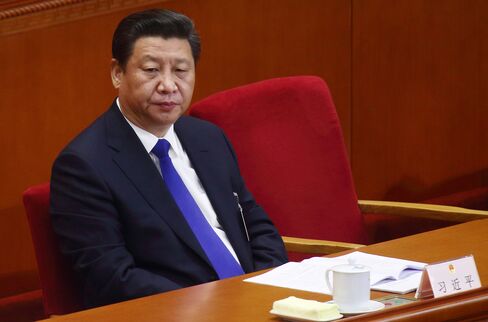 Chinese President Xi Jinping named one of his top graftbusters to lead the country's spy agency after a corruption scandal toppled the heir-apparent for the post, according to people with knowledge of the appointment.
Chen Wenqing, 55, who until last month helped direct Xi's nationwide anti-graft campaign, was appointed Communist Party secretary for the Ministry of State Security, said the people, who asked not to identified because the change hasn't been publicly announced. The anti-corruption agency, the Central Commission for Discipline Inspection, said on its website Monday that Chen was no longer one of its deputy chiefs.
The appointment comes after corruption allegations in January led to the removal of Ma Jian, the agency's deputy minister and a likely candidate for the post. Xi is overhauling China's vast security apparatus in the wake of a corruption investigation centered on Zhou Yongkang, a former member of the supreme Politburo Standing Committee who oversaw security and legal matters.
Chen replaces Geng Huichang, who reached retirement age.
Xi called on assembled representatives from state security agencies last week to show "absolute loyalty to the party" in the face of threats to national security and social stability, according to the official Xinhua News Agency.
'Strict Discipline'
State security agencies should "learn from experience" and "enforce strict discipline" to build a team that is "determined, pure, trustworthy, devoted and competent," Xi was quoted as saying at the May 19 meeting.
Chen, who studied law in college, spent more than two decades years in security, judicial and disciplinary posts in Sichuan and Fujian provinces, before moving to CCDI. His appointment as party chief gives him de facto control over the Ministry of State Security. He is expected to be formally named minister at the National People's Congress next March, the people said.
Ma is suspected of serious violations of party discipline and state law, the graft watchdog said in January. He is being investigated for accumulating six villas in Beijing, along with other breaches of party rules including keeping mistresses, Caixin magazine reported in March.
— With assistance by Keith Zhai, and Ting Shi
Before it's here, it's on the Bloomberg Terminal.
LEARN MORE