Charter Gives Dodgers Fans Reason to Cheer Time Warner Cable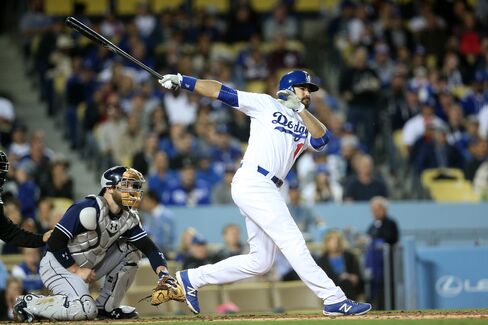 Charter Communications Inc. will soon offer the Los Angeles Dodgers channel in Southern California, lifting a blackout for its subscribers as part of its $55 billion purchase of Time Warner Cable Inc.
Charter also will look to expand SportsNet LA, owned by Time Warner Cable, to other pay-TV operators in the market if the merger is consummated, Alex Dudley, a Charter spokesman, said Tuesday. He declined to comment on terms of the Dodgers deal, which he said still have to be worked out.
Time Warner Cable, which has exclusive rights to Dodgers broadcasts, has been unable to reach fee agreements with other pay-TV providers in Southern California, blacking out games for most of the market's 4.1 million pay-TV customers. The Charter-Time Warner Cable merger could break the logjam, according to Ed Desser, founder of Desser Sports Media Inc., a sports TV consultant in Santa Monica, California.
"Any change in the environment is a good thing," Desser said by phone. "It provides an opportunity for the parties to reassess their positions."
Time Warner Cable, the largest provider in the market, signed a 25-year, $7 billion-plus deal with the Dodgers in 2013, shortly after an affiliate of Guggenheim Partners LLC, backed by basketball great Magic Johnson and others, bought the team from Frank McCourt for $2.15 billion.
"We're excited for Charter customers to enjoy the network's games and in-depth programming," Time Warner Cable said in an e-mailed statement.
Fee Sought
Time Warner Cable had been asking local pay-TV operators for more than $4 a month per subscriber, a fee that discouraged others from signing on.
David Goodfriend, chairman of the Sports Fan Coalition, which advocates on behalf of fans, said regulators should make resolution of the Dodgers impasse a condition of their approval of the Charter-Time Warner Cable deal. Goodfriend had earlier argued against Comcast Corp.'s purchase of Time Warner Cable, which was scuttled by regulators.
"Time Warner Cable still did a bad deal for those Dodgers games and is trying to make up for that bad deal by charging too much and a result they're not getting distribution," Goodfriend said by phone.
Charter has about 249,000 customers in the Los Angeles market, putting it in fifth place, according to data from researcher SNL Kagan. Time Warner Cable has 1.28 million subscribers.
The Los Angeles Times reported earlier that Stamford, Connecticut-based Charter could begin carrying the Dodgers channel within a few weeks.
Before it's here, it's on the Bloomberg Terminal.
LEARN MORE