Charter's Deal Faces Lower Regulatory Barrier Than Comcast's
Charter Communications Inc.'s proposed purchase of Time Warner Cable Inc. faces fewer hurdles to U.S. regulatory approval than Comcast Corp.'s ill-fated bid to buy the No. 2 cable provider.
Charter said the combination, along with its purchase of Bright House Networks, would create a company serving fewer than 30 percent of U.S. subscribers to high-speed Internet service. That figure was 57 percent in the deal Comcast abandoned last month under pressure from regulators concerned about preserving online competition to traditional cable video.
The Charter deal doesn't pose the same harm to the broadband market, Jonathan Chaplin, an analyst with New Street Research, said in a note Tuesday. He listed further characteristics in the deal's favor: Comcast owns NBCUniversal and Charter doesn't have content assets; Charter doesn't have a history of disputes with online providers such as Netflix Inc., and it hasn't been accused of violating behavioral requirements set in previous mergers.
Still, the deal would create a company with national scale, serving 23.9 million customers in 41 states compared with cable leader Comcast's 27.2 million.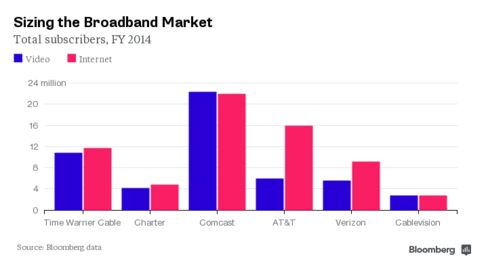 'Genuine Risks'
"One has to be sober about genuine risks that this deal could still be rejected," Craig Moffett, an analyst with MoffettNathanson, said in a note. "Simply being smaller than Comcast may not be safe harbor."
The merger needs approval from the Justice Department and the Federal Communications Commission, both of which challenged Comcast's proposed takeover of Time Warner Cable, leading to that deal's unraveling.
The companies in a news release said they expect to win regulatory approval and close the transaction by the end of the year. The agreement carries a breakup fee of $2 billion.
The combination would let Charter and Comcast dominate the market for high-speed Internet service, leading to less incentive to compete on price and quality, said Diana Moss, the president of the Washington-based American Antitrust Institute.
"The U.S. is not known for a having a particularly competitive broadband industry," she said. "This would actually exacerbate that."
Prices, Services
The deal won't encounter the same antitrust issues that the Comcast acquisition did, said Gene Kimmelman, the head of Public Knowledge, which opposed the Comcast bid. The combined company will have fewer subscribers and won't also control programming like Comcast does with NBCUniversal, and it leaves Comcast as a competitive counterweight, he said.
"The FCC still has to find it promotes the public interest so there will be a burden on Charter," Kimmelman said. "Are prices going to come down? Will there be faster speeds, better service? Are they going to build out broadband to compete against others? Those are the kind of questions that will be in front of the FCC."
The Justice Department and the FCC probably will approve the deal in part because Charter isn't burdened by the same issues that hurt Comcast such as broadband dominance, according to a note by Bloomberg Intelligence analysts Matthew Schettenhelm and Jennifer Rie. Regulators will probably insist on conditions such as a promise not to impair online video companies, they said.
Odds of approval are low, and Charter could increase them by launching a nationwide online offering of its programming that's available now with a cable subscription, or by laying lines in competitors' markets, Rich Greenfield, an analyst with BTIG, said in an e-mail. Charter likely wouldn't agree to either, Greenfield said.
Consumer Benefits?
"I'm confident that our proposed transaction will obtain approval from regulators," Tom Rutledge, Charter's chief executive officer, told investors in a call Tuesday. Charter offers faster, less expensive broadband than Time Warner Cable, Rutledge said.
FCC Chairman Tom Wheeler, who helped kill Comcast's deal, in a statement Tuesday said the agency "reviews every merger on its merits and determines whether it would be in the public interest."
"An absence of harm is not sufficient," Wheeler said. "The commission will look to see how American consumers would benefit if the deal were to be approved."
Wheeler last week called the leaders of Charter and Time Warner Cable to dispel notions that industry mergers won't be approved by regulators, a person with knowledge of the calls said. Peter Carr, a Justice Department spokesman, declined to comment.
Regulators should reject the deal, Michael Copps, a former Democratic FCC member and special adviser to the policy group Common Cause, said in an interview.
"It's still about gatekeeping for cable interconnect," or accepting traffic from Web companies, Copps said. "It's still something that gives a company too much market power."
Before it's here, it's on the Bloomberg Terminal.
LEARN MORE