Avalon-Backed Skycatch Seeks $30 Million as Drone Funding Flows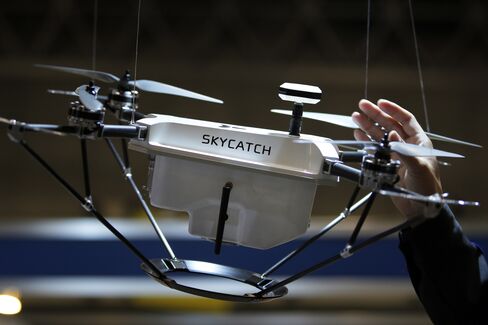 Skycatch, a drone startup whose backers include Avalon Ventures LLC, is close to completing as much as $30 million in financing as the industry attracts increasing interest from private investors.
It will be the largest round of funding for the maker of drones and software used to monitor sites such as construction projects and oil facilities, said Richard Levandov, a Skycatch director and Avalon partner. The financing, which will probably be led by Avalon, is "way oversubscribed" and should be done within 60 days, he said.
"We're going to have to just stay sane and not raise too much money," Levandov said in an interview. "We don't really need that much money now because the business is starting to flow."
Drone makers are luring more venture funding as U.S. regulators ease restrictions on commercial applications that include airborne inspections and film making. SZ DJI Technology Co., the Chinese drone manufacturer that gained notoriety when one of its craft crashed on the White House lawn, raised $75 million earlier this month.
Skycatch previously raised $24.7 million in five rounds from 12 investors, including Avalon and Google Ventures, according to CrunchBase, a website that tracks startup funding. Avalon's previous investments include early-stage funding for the social-gaming company Zynga Inc.
The new investment will be in a range of $25 million to $30 million, Levandov said.
Skycatch is helping Komatsu, a Japanese maker of heavy machinery, to use data from its drone systems to keep track of equipment at a construction site in Japan. Chevron, in a filing for a Federal Aviation Administration permit, said it would use a Skycatch drone for aerial imaging to check the safety of oil and gas facilities.
Revenue Stream
Skycatch charges a monthly fee for the drone, which can fly autonomously to and from a base, as well as the data analysis. The San Francisco-based startup already is getting orders worth $10 million to $20 million a year. A large manufacturing firm, which Levandov declined to name, wants 1,000 drones at a cost each of about $6,000 a month, he said.
"It's a multimillion-dollar recurring revenue stream, which is wonderful," Levandov said. "Because someone is renting them by the month, we can keep swapping them out with lighter, better, faster versions."
Skycatch, which has 50 employees, is also looking to tap the consumer market by licensing its technology to a manufacturer that would distribute a lower-cost version of the commercial drone. The company is designing a product for a client which Levandov declined to name.
Before it's here, it's on the Bloomberg Terminal.
LEARN MORE