$430 Cowboy Boots and Other Reasons to Be Excited About Stocks
Everyone's looking for reasons to get excited about stocks
Are you suffering from a chronic case of apathy toward the stock market?
The good news is you are not alone. Just take it from Dan Greenhaus, chief strategist at BTIG:
"As many return to the office after a long weekend and the unofficial start of summer, it remains no less difficult to be excited about equity markets," Greenhaus wrote in a note to clients.
It sounds like Greenhaus had a pretty good weekend! In any event, whether you were lucky enough to squeeze in three rounds of golf and a sail or just cut the grass over the holiday, it's hard not to agree with his lack of excitement for stocks. Sam Stovall at Standard & Poor's compares the S&P 500 Index to a "creeping vine" as it slowly climbed to fresh records last week without much fanfare.
The Dow Jones Industrial Average today is snapping a six-session streak without a move of 100 points or more, its longest in a year, and the move is to the downside. After a vigorous six-year bull market, even the cheapest stocks are expensive at a time when earnings growth is scarce. Is this one of those instances where we'd all really be better off if we followed the old cliche and just sold in May and went away?
"Excluding the Tech Bubble, there are virtually no standalone metrics on which the S&P 500 looks inexpensive versus history," Bank of America Merrill Lynch strategist Savita Subramanian wrote in a note today.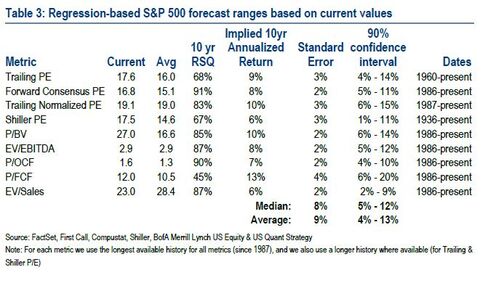 Still, she wrote, valuations are a terrible metric to time markets with in the short term since they don't tend to signal when it's the appropriate time to exit. They are, however, great predictors of long-term results. History suggests valuations at current levels will lead to a future annual return of 8 percent over the next 10 years compared with a 50-year total annual return of 10 percent for the S&P 500, she wrote. And while that's less than average, it should be enough to beat bonds and commodities: "Among the various asset classes, equities appear well positioned to offer greater relative returns."
Stovall pointed out that the whole "sell in May and go away" strategy does not look so hot when the S&P 500 posts a gain in May, as appears may be the case this month. In the past 69 years, the S&P 500 increased an average of only 1.3 percent during the May through October period and advanced in that six-month period 64 percent of the time, he wrote. The six-month gain almost tripled to 3.5 percent whenever the S&P 500 rose in May, he wrote, and the chance of gains over the period increased from 64 percent to 87 percent.
Today, that May advance doesn't appear to be as much of a sure thing as it did last week, with the S&P 500 trimming its gain for the month to less than 0.9 percent from 1.9 percent on Friday. So check back in a few days to see if the market was able to pull itself up from its bootstraps and post a gain for the month.
Speaking of boots (awkward segue alert), check out these bad boys!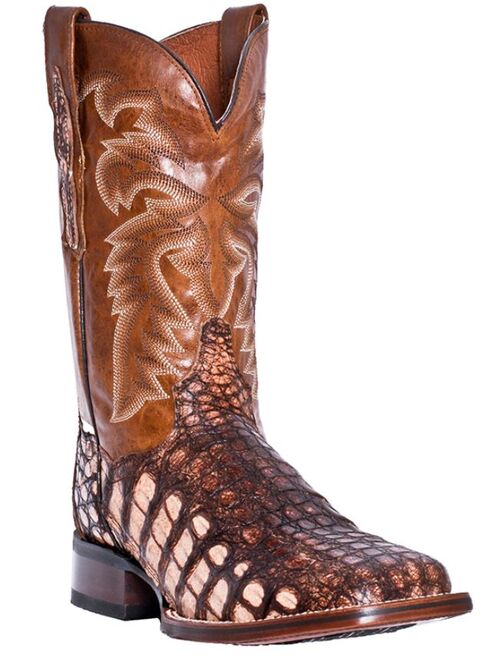 These obviously aren't just any boots, they are authentic Dan Post Men's Cowboy Certified Everglades Caiman Boots found in the "exotics" section of the Boot Barn website. They cost $429.99. And how, you might ask, is the market for cowboy boots doing these days? Pretty darn good, partner, thanks for asking.
Shares of Boot Barn Holdings Inc. are up 27 percent this year through last week and 44 percent since the company went public in October. Boot Barn posted revenue growth of 48 percent in 2014 and 38 percent the year before that, according to data compiled by Bloomberg. The pace is expected to moderate to 15 percent, or $399 million in full-year sales, when the company reports fiscal fourth quarter results on Thursday, according to estimates compiled by Bloomberg. Still, analysts are bullish, with five of the six who cover the stock rating Boot Barn the equivalent of a buy.
Boot Barn is "a compelling growth story with low risk and high potential reward," according to analyst Randal J. Konik and colleagues at Jefferies. The company "occupies its own unique niche, which allows it to face minimal competition, and is not subject to significant fashion risk."
Hmm, fair enough. Though the line about "not subject to significant fashion risk" does make you wonder if Konik has seen this particular pair.
Before it's here, it's on the Bloomberg Terminal.
LEARN MORE