Vodafone Weighs Initial Public Offering for India Arm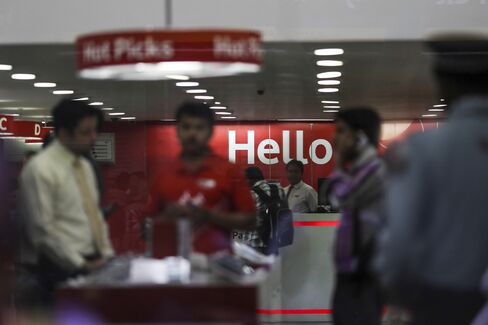 Vodafone Group Plc is weighing an initial public offering for its Indian business, the wireless carrier's biggest unit by customers, said a person familiar with the matter.
Investment bank Rothschild is compiling a report about the benefits of a possible IPO, set to be delivered around August, according to the person, who asked not to be identified because the plan isn't public. Vodafone will decide whether to proceed after that, and an IPO will also depend on market conditions, the person said.
An IPO would provide Vodafone with cash while allowing investors to bet specifically on India, whose wireless growth is outpacing that of more mature countries such as Vodafone's home market, the U.K. Shares of Vodafone hit their highest level in more than 14 years last week after comments by Liberty Global Plc's John Malone fueled expectations that the wireless carrier will take part in the industry's consolidation.
Representatives for Vodafone and Rothschild declined to comment. CNBC-TV18 earlier reported Newbury, England-based Vodafone's plan toward an IPO for the India unit.
The Indian division's earnings before interest, taxes, depreciation and amortization reached 1.28 billion pounds ($2 billion) in the latest fiscal year on sales of 4.3 billion pounds.
Indian mobile companies trade at a median price-to-Ebitda ratio of 5.35, according to data compiled by Bloomberg. That would value Vodafone's business at approximately 6.85 billion pounds.
Share Performance
Vodafone shares were unchanged at 253.75 pence at 8:49 a.m. London time. The stock has advanced 14 percent this year, giving the company a market value of 67.3 billion pounds.
Vodafone, India's second-largest wireless operator, was among carriers spending $18 billion in the country's airwaves auction this year. Last year, Marten Pieters, head of Vodafone India at the time, said in an interview that the company won't consider an IPO of the unit until it has greater certainty about its access to airwaves.
The unit, which has more than 180 million customers, accounts for 10 percent of Vodafone's total revenue.
Early this year, Indian authorities said they won't appeal a court ruling that sided with Vodafone in a tax dispute as the country works to reassure foreign investors about governance rules. The dispute involved the way Vodafone reported a transfer of shares between its business in India and another unit.
Before it's here, it's on the Bloomberg Terminal.
LEARN MORE