Spain's Socialists May Copy Dutch Plan for Taxing Wealthy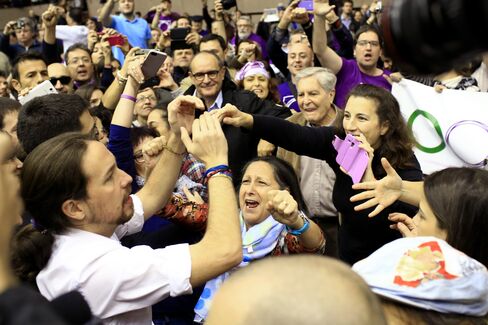 The Spanish Socialist Party, which held its ground in Sunday's local election, plans to integrate the income and wealth taxes should it win this year's general elections, a move to shield the middle class from tax increases.
The measure is part of a wider reform intended to balance the efforts needed to reduce the European Union's second-biggest budget deficit, between bigger revenues and smaller expenditures, Manuel de la Rocha-Vazquez, the party's head of economic policy, said in an interview last week. The party also will also introduce a floor for corporate taxes of about 15 percent of companies' reported profit.
Spain is committed to bringing its budget deficit below 3 percent of gross domestic product next year and Prime Minister Mariano Rajoy is relying mostly on cutting spending, De la Rocha said. While the Socialists are trailing the PP in the polls, it may be in a better position to strike a deal with new parties like Ciudadanos and Podemos than its traditional rival.
"The burden of the adjustment shouldn't be based only on public-sector expenditure," he said. The government "is implementing a ideologically-based fiscal consolidation," he added.
The Socialists' plan to integrate the most important personal taxes is based on the Dutch and Swedish systems which have a similar approach, De la Rocha said.
The Socialists won 25 percent support in the municipal polls, compared with 28 percent in 2011, narrowing the gap to Prime Minister Mariano Rajoy's People's Party to 454,000 votes. In the last local election, the Socialists trailed by 2.2 million votes.
On top of the overhaul of the tax system, the Socialists plan to change the governance of the tax system, de la Rocha said. The head of the tax agency should be appointed for a six years, so it doesn't coincide with government terms, and the appointment should require the support of at least two thirds of the parliament, he said.
Before it's here, it's on the Bloomberg Terminal.
LEARN MORE