New Polish President Revives Vision Cut Short by Plane Crash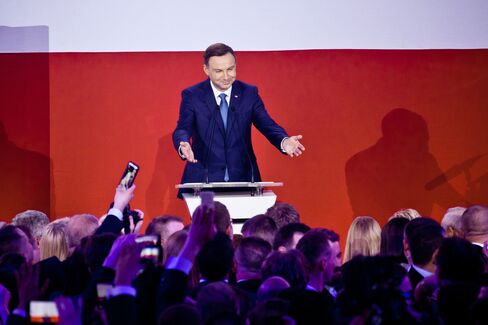 Friends of Polish President-Elect Andrzej Duda thought he was on the plane that killed his mentor Lech Kaczynski five years ago. He wasn't, but days before the crash, the late president told Duda something that changed his life.
"The president stared out the window and said that he wasn't getting any younger, and his generation would soon pass," Duda, 43, said during a speech in February. "He looked up and said 'but you are the future of Polish politics, and the responsibility rests with you to carry on.'"
Duda, who defeated President Bronislaw Komorowski on Sunday in Poland's biggest political upset in a decade, sees himself as the heir of Kaczynski's mission to turn Poland into an "honest" country outside the "European mainstream," one not afraid to pursue its own economic and foreign policies. His vision, including plans to tax banks and buy them back from foreign owners, has spooked markets and threatens to return Poland to the bitter political fighting last seen when his Law and Justice party was in power in 2005-2007.
See also: Duda Win Puts Poland's Haven Status at Risk as Bond Rout Deepens
The late president's twin brother Jaroslaw Kaczynski, the party leader who hand-picked Duda for the presidency, is now vying to use the victory as a stepping stone to win a general election due by November. He was unseated after a two-year term in which he repeatedly accused rival politicians, judges, journalists and the business elite of mounting conspiracies against him. His anti-corruption chief received a three-year jail sentence in March for illegal entrapment of politicians.
Kaczynski's Soldier
Arkadiusz Mularczyk, who introduced Duda to Law & Justice in 2005, recalls how he thought his friend was in the crash in Smolensk, Russia, that killed all 96 people on board. Instead, he was one of the few survivors in Kaczynski's entourage left to challenge Komorowski, who as speaker of parliament was next in line under the constitution. Komorowski beat Jaroslaw Kaczynski in an election to win a five-year term.
"He was the last to leave the battlefield by resigning from Lech Kaczynski's office," Mularczyk said by phone in May. "Andrzej thinks of himself as the president's political heir."
With some Law & Justice members insisting the cause of the Smolensk disaster has been covered up by former Civic Platform Premier Donald Tusk and Russian President Vladimir Putin, Duda took a milder tone in the campaign, pledging to unite Poles and bring change after the Platform's eight years in power.
Disappearing Boss
Duda on Monday visited Wawel Castle in Krakow to lay a wreath on the tomb of Lech Kaczynski to whom, he said "I owe where I am and what I am."
After winning a seat in European Parliament last year and getting the nod from Kaczynski to run for president, the trained lawyer staged a bus tour to meet people and gain nationwide recognition. Kaczynski, 65, was conspicuously absent from the vast majority of Duda's campaign, even skipping the post-election celebration on Sunday. This allowed the candidate to distance himself from his party's and his boss's image.
"Andrzej Duda is a decent man, but in the bigger scheme of things it's not about him," but about what Kaczynski wants, Kazimierz Marcinkiewicz, a prime minister under Law and Justice in 2005-2006 who later fell out with Kaczynski, told TVN24 on May 13.
Markets Tumble
Echoing policies pursued by Hungarian Prime Minister Viktor Orban, such as more taxes on banks and retail companies, Duda alarmed markets. He also campaigned against Poland joining the common euro currency, saying it would cause a spike in prices and erode economic sovereignty.
A record 70 percent of Poles oppose adopting the euro, according to an April 16-22 survey of 1,027 adults, Warsaw-based researcher CBOS said in an e-mail on Tuesday.
The zloty has tumbled 2.2 percent against the euro since before Duda won the first round of elections on May 10, the worst-performance among 24 emerging-market currencies after Columbia's peso. The yield on benchmark 10-year bonds jumped 33 basis points in the period to 2.93 percent, the highest since October. An index of Warsaw-listed banks dropped 3.4 percent on Monday, the biggest daily decline in four months.
'Deeply' Mistaken
Duda's proposals, which include reducing the retirement age, raising the level of non-taxable income and tax benefits for families, could cost more than 400 billion zloty ($109 billion) during the next five years, according to Finance Minister Mateusz Szczurek. That's more than Poland's planned 2015 budget revenue and six times the forecast deficit.
Central bank Governor Marek Belka drew criticism on Tuesday for saying Poles had voted for a "joker" candidate not from "stable left or right opposition parties."
Saying he was "boiling" over the result, he didn't make clear whether he meant Duda or Pawel Kukiz, a former punk rocker who took a fifth of the vote in the first round.
"With such regularity, we've discussed how wonderfully everything went over the past 25 years of transformation," Belka told a gathering of students late on Monday. "The last weeks and hours show how deeply we were mistaken."
Before it's here, it's on the Bloomberg Terminal.
LEARN MORE