Lamborghini Said to Agree to Produce New SUV in Italy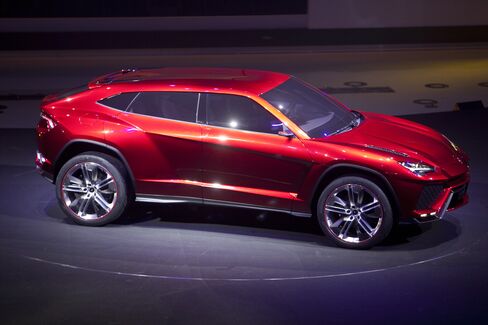 Automobili Lamborghini SpA will build a new high-performance sport utility vehicle in Italy that may double the size of the supercar brand, after reaching a deal on tax breaks with Prime Minister Matteo Renzi's government, said people familiar with the matter.
Lamborghini Chief Executive Officer Stephan Winkelmann and Rupert Stadler, the CEO of its parent company Audi AG, are scheduled to attend a press conference in Rome Wednesday with Renzi to announce the agreement, said people familiar with the matter, who asked not to be named before the announcement. A Lamborghini representative declined to comment.
In exchange for Lamborghini's plan to hire as many as 500 people, Renzi's government will grant as much as 80 million euros ($87 million) in tax breaks and other benefits to expand production in Italy, the people said.
Audi is seeking to broaden Lamborghini's lineup beyond two-seat supercars, which have limited appeal in emerging markets such as China, where road conditions can be poor. It will be Lamborghini's first SUV since production of the boxy LM002 -- the so-called Rambo Lambo -- ended in 1993. Known for low-slung sports cars like the $237,000 Huracan, Lamborghini unveiled a prototype of the high-riding Urus SUV in 2012.
New Model
Lamborghini met several times in the last few months with representatives of the Italian government before making a final decision on the production of the SUV, people familiar with the matter said earlier this month. To cut costs, the chassis and other key components are set to be produced at Volkswagen AG factories, such as a plant in Bratislava, Slovakia, where the frame for the Porsche Cayenne SUV is made, the people said.
VW owns Audi, which in turn is the parent company of Lamborghini.
The new model comes as the increasing wealth of the world's rich led to record sales last year for most major luxury-car makers. For Lamborghini, deliveries rose 19 percent to an all-time high of 2,530 cars. Lamborghini has previously said there's the potential to sell 3,000 performance crossovers a year, more than doubling the size of the brand.
Lamborghini renewed a labor contract with Italian unions on May 22.
Before it's here, it's on the Bloomberg Terminal.
LEARN MORE