It's Deja Vu for Bond Traders as Argentina CPI Is Deemed Unreal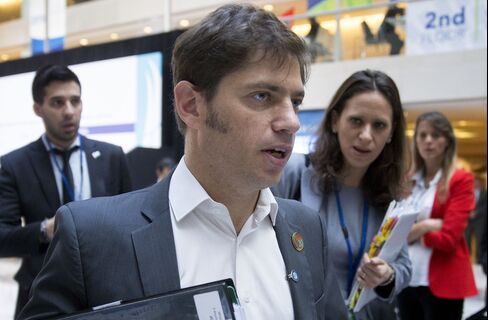 Barely a year after re-jiggering its inflation statistics to make them more credible, Argentina is again losing traders' confidence the numbers reflect reality.
Securities linked to consumer prices are falling by the most in nine months as the gap widens between the official and private estimates for everything from food to education costs. The debt has tumbled 2.4 percent in the past month, the biggest drop on a 30-day rolling basis since August, while similar bonds in Latin America gained, according to Barclays Plc.
Argentina unveiled new inflation data in February 2014 after being censured by the International Monetary Fund. The bonds rallied on speculation the decision would prompt the government to start reporting inflation that was closer to private estimates, which are currently running at 29 percent. That hasn't happened. What's more, a slumping economy is causing official inflation to slow, cutting into returns.
"It's become clear that the government still isn't willing to recognize reality," said Maximiliano Castillo, a former central bank economist who is now director of Buenos Aires-based research firm ACM SA.
Yields on benchmark peso bonds rose to a two-month high of 8.4 percent after the government on May 15 reported monthly inflation of 1.1 percent in April, or an annual rate of 15.8 percent. That's about half private economists' estimates.
Congress Index
Economy Minister Axel Kicillof said inflation this year may be as low as 15 percent while 14 economists surveyed by Bloomberg estimate consumer prices will increase 19.7 percent.
Kicillof, the 43-year-old minister, has said the new nationwide index accurately reflects rural and urban realities and not just costs in the capital of Buenos Aires.
The government began to underreport price increases in 2007 when then President Nestor Kirchner overhauled staff at the National Statistics Institute. In 2011, the government fined private consulting firms that published inflation estimates contradicting theirs.
Two years later, Argentina became the first nation to be censured by the IMF for failing to report accurate data.
Investors in the country's inflation-linked bonds have lost out on $14 billion since 2007, according to estimates by ACM Consultores, as the returns increase in line with the official consumer price index.
'Aren't Attractive'
"The bonds aren't attractive anymore because official inflation is slowing to an annual 15 percent from 25 percent, so they're losing 10 points," said Jorge Podesta, a fixed-income analyst at Buenos Aires-based brokerage Allaria Ledesma y Cia. "We don't think this will change in the next few months."
The consensus among economists is that a new administration, which will take office in December after elections Oct. 25, will improve economic data reporting. Still, investors aren't willing to take the risk due to the political uncertainty, ACM's Castillo said.
"Whoever is elected needs to make data transparent," said Castillo. "Everyone knows it needs to be done. The question is how and when."
Before it's here, it's on the Bloomberg Terminal.
LEARN MORE