Greece Points to June IMF Payment as Next Cliffhanger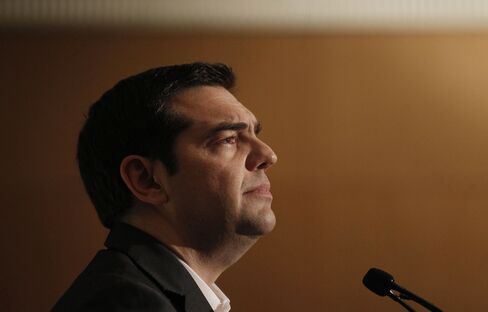 The Greek government is priming investors for another cliffhanger on June 5.
While Greek Prime Minister Alexis Tsipras's spokesman Gabriel Sakellaridis insisted on Monday that the government will pay salaries and pensions due at the end of this month, he refused to be drawn in on whether the administration will be able to find the roughly 300 million euros ($329 million) it's due to pay the International Monetary Fund at the end of next week.
"This government has the responsibility to pay its obligations, both within Greece and externally," Sakellaridis told reporters in Athens. "The liquidity problems are well known. We want to honor our obligations, and that's exactly why we're seeking this agreement soon."
Greece looks set to miss the May 31 deadline German Chancellor Angela Merkel and French President Francois Hollande set last week for reaching an agreement on aid, with no more meetings of euro-area finance ministers scheduled before then and its creditors still to sign off on Tsipras's economic plans. Greek Economy Minister George Stathakis said in an interview with Le Monde newspaper that it may still be several weeks until the two sides can reach an agreement, though a deal remains the most likely outcome.
Greek stocks fell on Monday, with the benchmark ASE index closing 3.1 percent lower. The yield on Greek two-year bonds fell 78 basis points.
Some members of Tsipras's Syriza party advocate defaulting on loans rather than backing down from the anti-austerity policies that swept it to power in January even if that leads the country out of the euro.
Talk of Default
Greece doesn't have the money and won't pay what it owes the IMF next month, Interior Minister Nikos Voutsis, who isn't involved in economic policy, said in a Mega TV interview Sunday. Spiegel Online on April 1 cited Voutsis as saying Greece should delay an April 9 payment to the fund and that payment was made.
Credit rating companies treat the IMF differently from other creditors so the failure to service official loans wouldn't necessarily cause them to downgrade Greece to "default." Still, missing the June 5 payment to the fund could trigger a chain reaction that includes the European Central Bank raising the discount it applies to collateral that the Greek banks post for emergency liquidity assistance.
"We've done remarkably well for an economy that doesn't have access to the money markets to meet our obligations," Finance Minister Yanis Varoufakis said on Sunday. "At some point we will not be able to do it."
Even so, Sakellaridis pushed back against speculation that Greece was preparing measures to protect its financial system in the event of a default. Reports the government would have to introduce capital controls are unfounded, irresponsible and malevolent, Sakellaridis at Monday's briefing. The ECB increasing the collateral haircut would "complicate" the talks, he added.
Seeking Concessions
Greece is still trying to bridge differences with its creditors over pensions, sales-tax rates, labor market reforms and the targets for its primary budget surplus, Sakellaridis said.
The Greek government wants to implement a reform agenda, and the sticking point in negotiations is creditors' insistence on more austerity, Varoufakis said in a Project Syndicate column on Monday.
Euro-area finance ministry officials will hold a teleconference call on Thursday to discuss Greece's progress, according to two people familiar with the matter said, who asked not to be named in line with policy. Earlier in the week, the ECB's Governing Council will hold its weekly review of emergency liquidity support to the country's lenders.
While Tsipras is appealing to Greece's creditors to reciprocate after his government backed down over key demands, German Finance Minister Wolfgang Schaeuble signaled little willingness to grant concessions.
"The problems are rooted in Greece," Schaeuble said in a Deutschlandfunk radio interview aired Sunday. "And now Greece does have to fulfill its commitments."
Before it's here, it's on the Bloomberg Terminal.
LEARN MORE