Deripaska's En+ Eyes Up to $1 Billion of Funds From China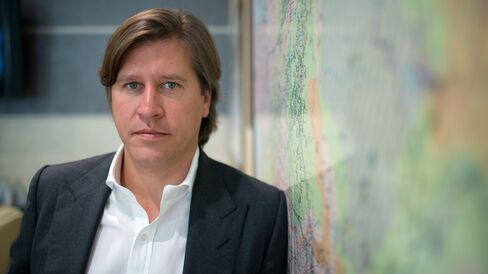 Russian billionaire Oleg Deripaska's En+ Group Ltd., whose assets include 48 percent of United Co. Rusal, is considering selling as much as $1 billion of convertible bonds or shares.
En+ is in talks with several parties, some at the stage of due diligence, and may sell its own or a unit's securities, Maxim Sokov, chief executive officer of the power and commodities holding company, said in Moscow. Investors from China are involved in the discussions, which is "natural" since the group has projects focusing on that country, he said.
Russia is encouraging companies to develop ventures with Chinese partners after the U.S. and Europe applied sanctions that have impeded access to international capital markets as the Ukraine conflict intensified. Chinese President Xi Jinping visited Moscow this month for a Victory Day parade in Red Square, as well as talks on business ties.
En+ or its utility unit Eurosibenergo may sell $500 million to $1 billion of bonds or shares, and talks are being held with funds and energy companies, Sokov said. An initial public offering hasn't been ruled out, although En+ sees a "window for an IPO opening no earlier than in three years," he said.
The proceeds from the sale of securities may go toward buying the 40 percent of power producer OAO Irkutskenergo that En+ doesn't yet own from state-controlled OAO Inter RAO UES, Sokov said. Another funding option is bank loans, he said.
The Moscow-based company, whose other assets include coal mines in Siberia, reported revenue of $11.9 billion in 2014 and earnings before interest, taxes, depreciation and amortization of $2.2 billion.
En+ has debt of about $1.1 billion, a "quite comfortable" level, Sokov said. It's in talks with its lenders, mostly Russian banks, about refinancing and extending loan maturities and expects to sign an agreement soon, he said.
OAO VTB Bank, Russia's second-largest lender, bought a 4.35 percent stake in En+ in 2011. There are no talks with the lender on converting debt into an additional stake, Sokov said.
Rusal Dividends
En+ hasn't been able to rely on any windfall for development from aluminum producer Rusal, which hasn't paid dividends since selling shares in Hong Kong in 2010.
"We expect that the company will be able to pay dividends for the first nine months of 2015, but all will depend on the situation on the aluminum market and the ruble rate," Sokov said. The CEO says Rusal may commit to a payout in 2016 if not this year.
Prices for the metal used in cars, airplanes and drink cans have dropped on concern there'll be a glut in supply this year. Rusal CEO Vladislav Soloviev on May 13 said that the market is changing rapidly and it's "hard to say when the company will have an opportunity to pay dividends."
Before it's here, it's on the Bloomberg Terminal.
LEARN MORE