Brazil Examines HSBC Clients Who Put $5.4 Billion in Switzerland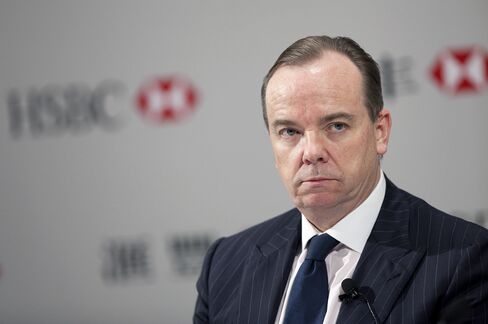 Brazil tax authorities examining a trove of data on HSBC Holdings Plc clients are looking for signs the nation's citizens broke laws while holding $5.4 billion almost a decade ago in Swiss accounts at the bank.
The Receita Federal tax agency found Brazilians stockpiled those funds in 1,702 accounts at the end of 2006 after it reviewed data obtained through an agreement with French authorities, according to an e-mailed statement Monday.
The tax authority is cross-referencing the information with its own data and asked the nation's central bank to help sift for criminal acts against the financial system, such as money laundering, according to the statement. Receita also is seeking to identify any public servants and other people with political ties among the HSBC customers.
France began scrutinizing HSBC's Swiss private bank after a former information technology worker at the firm stole client account details from HSBC's Geneva office in 2008 and passed them to the government. The aging information came under renewed public scrutiny around the world this year as media reports revealed the sweep of HSBC's private-banking arm as of 2007, when it controlled $100 billion in assets and served a swath of wealthy depositors from the elite to the illicit.
HSBC said in a statement Monday that the tax issue is more than eight years old, based on stolen data and focuses on operations that have been significantly overhauled. The Swiss private bank has cut its total accounts while more than doubling compliance staff, the company said.
HSBC Chief Executive Officer Stuart Gulliver has been exploring options for its Brazil unit, including a potential sale. The London-based bank may pick a preferred bidder as early as mid-June in a transaction that could fetch $4 billion, people with knowledge of the matter said May 12.
No decision has been made in the strategic review of the unit, the company said in its statement Monday.
Before it's here, it's on the Bloomberg Terminal.
LEARN MORE