Saudi King Vows to Punish Perpetrators of Mosque Attack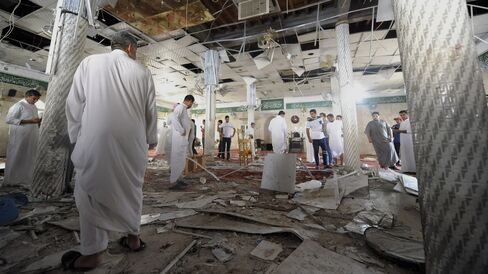 Saudi King Salman vowed to punish those responsible for a suicide attack on Shiite-Muslim worshippers, describing it as "heinous crime" that killed innocent people in the kingdom's oil-rich Eastern Province.
"Every participant, planner, supporter, collaborator, or sympathizer with this heinous crime will be held accountable, tried and punished," King Salman said in a statement on the official Saudi Press Agency. "Our efforts will never stop at any time from fighting the deviant thought."
Friday's attack comes as Saudi Arabia participates in U.S.- led operations against Islamic State in Syria and as it leads a military intervention against Shiite rebels in Yemen. Islamic State claimed responsibility for the bombing that killed 21.
Saudi Arabia identified late Saturday the suicide bomber as 20 year-old Saleh al-Qashami, the Riyadh-based SPA said, citing an unidentified interior ministry spokesman. He was wanted for belonging to an Islamic State affiliate in the kingdom, the news service said.
The explosive used at Qudeih in Qatif was a military-grade compound known as RDX, SPA said.
Militant Tactics
"We have to find out who else is behind this," Interior Ministry spokesman General Mansour al-Turki said by phone. "We are sure he didn't act alone."
Using al-Qashami, whose father was jailed for terrorist-related activity, in a suicide attack represents an escalation in tactics by militants inside the Arab world's biggest economy. They have already stepped up the frequency of strikes against police in the capital Riyadh.
Friday's explosion was the second of its type on the Saudi Shiite community since November, when three assailants used automatic weapons and handguns to kill five people and wound nine. Islamic State warned of more strikes against the Shiite minority, who mostly live near some of the world's largest oil fields in the eastern region.
Saudi Shiites have complained about discrimination by the Sunni rulers, occasionally staging protests. Islamic State, the Sunni group that controls parts of Syria and Iraq, has repeatedly targeted Shiites, whom it considers heretics.
Terrorist Cell
Saudi Arabia has vowed to crack down on Sunni extremist groups even as it's accused by Shiite regional rivals of inciting them. Jihadists such as Islamic State and Al-Qaeda typically denounce the Saudi royal family for betraying Islam through allying with the U.S.
Islamists who returned to Saudi Arabia from wars in Iraq and Afghanistan have skills they later turned against the Al Saud family. Militants struck an oil installation and stormed a housing complex in al-Khobar in 2004, killing 22 foreign workers.
Saudi Arabia said last month it detained two people plotting to attack the U.S. embassy in Riyadh. Security forces have arrested 93 on terrorism-related charges in recent months, Interior Ministry spokesman Mansour al-Turki said in April.
In response, the U.S. embassy has restricted personnel from traveling to some Saudi locations, according to a security message for citizens.
Before it's here, it's on the Bloomberg Terminal.
LEARN MORE