Polish Opposition's Duda Unseats President, Exit Poll Shows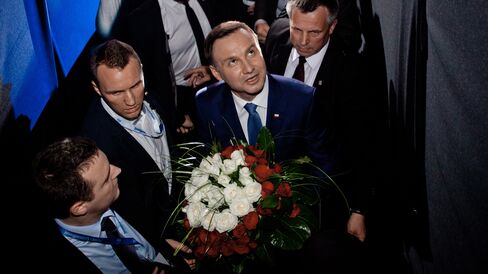 Polish opposition candidate Andrzej Duda defeated Bronislaw Komorowski in a presidential runoff, an exit poll showed, handing his party its first big victory in almost a decade and a head start before a fall general election.
Representing the opposition Law and Justice party, Duda garnered 53 percent in Sunday's ballot, according to an IPSOS exit poll for Poland's three major television stations. Komorowski, who had 47 percent, conceded defeat.
"I strongly believe that we can rebuild community, be together and that we can all work to repair the country," Duda told supporters in Warsaw. "I'm convinced the president's job is to serve and to be open, so it won't be a closed presidency. That I can promise you."
Duda won over voters who, unimpressed that Poland has led the European Union in economic growth since the start of the global economic crisis, want higher-paying jobs and better public services. Staging a bus tour across the nation of 38 million, he promised to raise benefits for families and reverse an increase in the retirement age, turning the ballot into a referendum on the eight-year rule of Komorowski's ruling Civic Platform allies.
"It will certainly change the dynamics with the general election," said Benjamin Stanley, a research fellow at the University of Sussex in Brighton, England. "Law and Justice's problem over the last few years have been to persuade people that they can actually win an election. Now their candidate is the president."
Zloty Pressure
The victory by Duda, a former aide to late President Lech Kaczynski, who died in the 2010 plane crash in Smolensk Russia that killed 96 people including military and government officials, may add pressure on the zloty.
The currency is the fourth-worst performer among 24 emerging-market currencies since he unexpectedly won the first round on May 10. Bank stocks have underperformed the Warsaw index as he has promised to impose new levies on lenders and revert ownership of big foreign-owned financial institutions back into Polish hands.
Poland's president can veto legislation and acts as commander-in-chief of the armed forces with a say in foreign policy. The separately elected parliament passes laws and elects a government, which, as the main executive power, plans and executes the budget. A general election is due by November.
Lead Squandered
Turnout was 56, according to the election poll, higher than the 49 percent seen in the first round. The rollercoaster campaign saw Komorowski squander an advantage of almost 50 percentage points over the opposition contender 19 years his junior. His image of a tried-and-tested statesman failed to resonate with voters as they decried a lack of higher-paying jobs.
"It didn't work out," Komorowski told supporters in Warsaw. "I wish him luck."
Under Civic Platform, Polish living standards measured by output per capita have leapt to more than two-thirds the EU average, from about half when the party took power in 2007. Yet they lag behind the Czechs and Slovaks, unemployment is above 10 percent, and as many as 2 million Poles have left for Britain, Germany and other richer EU states to seek better lives. A complaint is that the government hasn't tackled job contracts that don't offer retirement and other social benefits.
"Our grandchildren told us they'd leave the country unless we voted for Duda," Jozef Balakier, a 79-year-old music teacher, said after voting in Warsaw. "We love them very much and we try not to quarrel. Maybe something will change?"
'Rising Tide'
Duda criticized the incumbent for rubber-stamping government decisions. He vowed to pursue an "active" presidency, with plans raise the level of non-taxable income and introduce additional tax benefits for families. He pledged to tax banks and retailers and return lenders to Polish hands. His spending proposals could cost the budget more than 400 billion zloty ($109 billion) in the next five years, according to Finance Minister Mateusz Szczurek.
While Law and Justice won't have enough votes to push through Duda's proposed changes before the fall election, the ballot's approach may put pressure on Civic Platform to match his plans.
"Duda's victory will put his party on a rising tide," Anna Materska-Sosnowska, a political scientist at Warsaw University, said by phone. "That could be very difficult to stop for Civic Platform and could force changes within its leadership."
Before it's here, it's on the Bloomberg Terminal.
LEARN MORE