Oil Becoming 'Mundane Return-on-Capital' Business to Chanos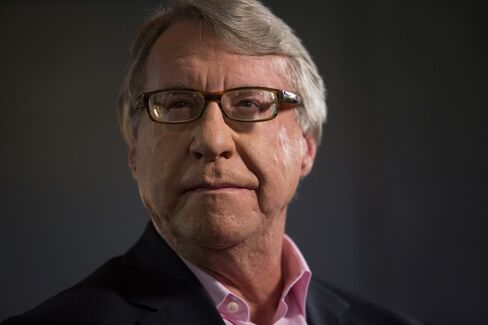 "Having to do things like drill in the Arctic" and "deal with Mr. Putin" are some of the reasons hedge fund manager Jim Chanos said he's "really negative" on integrated oil companies.
"They're replacing $20 oil with $80 oil, that's the problem," Chanos said in an interview on "Wall Street Week" posted on the TV show's website Sunday. "What were really high return-on-capital businesses are becoming more mundane return-on-capital businesses."
Chanos, the founder of Kynikos Associates LP, said this month that he's shorting some of the biggest names in the energy industry, especially natural gas producers, because of a potential surplus that he's called a "disaster waiting to happen."
Asked to name specific companies Sunday, he said he's "leery of the very leveraged guys in any company that's running negative cash flow after capital spending."
"They're not covering the dividends or their buybacks, so names like Chevron, British Gas/Royal Dutch and of course some of the big national companies, the Petrobrases of the world."
Chanos's comments follow the collapse of oil prices. While Brent crude, the global benchmark, has rebounded to about $65 a barrel from a low in the mid-$40s in January, it's still down more than 40 percent from June.
At the SkyBridge Alternatives Conference in Las Vegas this month, Chanos said he's betting against shares of Royal Dutch Shell Plc and BG Group Plc, which Shell is in the process of buying, as well as Chevron Corp.
Shell dropped 0.3 percent to 27.68 euros at 12:48 p.m. in Amsterdam after declining 0.9 percent on Friday. Brent crude fell 0.2 percent to $65.21 a barrel after retreating 1.8 percent on Friday. Trading in BG and Chevron was closed because of public holidays in U.K. and U.S.
LNG Plants
"Wall Street Week" is produced by SkyBridge Media, an affiliate of SkyBridge Capital, the fund-of-funds business founded by Anthony Scaramucci, a host of the show. SkyBridge, which sometimes has other business relationships with the show's participants, advertisers and sponsors, pays Fox stations in key markets to broadcast the show and also streams it online every Sunday at 11 a.m. in New York.
Chanos also reiterated on the show his conclusion that "enormously expensive" liquefied natural gas plants under construction pose a looming challenge for the industry.
At the SkyBridge conference, he said demand for LNG has been flat for the past few years and capacity is going to "skyrocket" once new liquefaction facilities go into production.
Helge Lund, chief executive officer of BG, later rebuffed Chanos's view, saying LNG will supply a greater share of the world's energy and demand is growing. The combination of BG and Shell is expected to create the biggest LNG supplier.
Scaramucci closed the show by asking Chanos for "an actionable idea."
Chanos advised investors to "short the North American frackers."
"It's a flawed business model," he said. "I agree with my friend David Einhorn who's been short in the space for three years."
Before it's here, it's on the Bloomberg Terminal.
LEARN MORE