Malaysia Discovers Mass Grave as Local Media Say Migrants Killed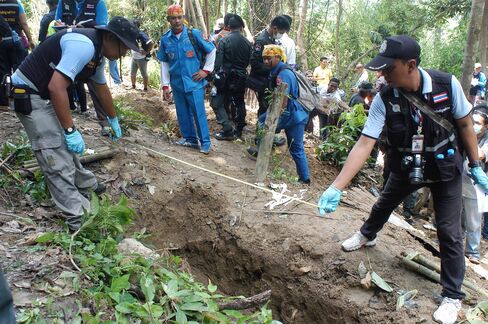 Malaysian police said they were investigating a mass grave discovered in the northern state of Perlis as local media said that the dead are believed to include Rohingya migrants from Myanmar.
Inspector-General of Police Khalid Abu Bakar confirmed the discovery of a grave in a text message on Sunday, without giving more details. The police plan a briefing on Monday.
The Star Online reported earlier that police and forensic teams arrived Friday in Padang Besar, a town bordering Thailand, where a grave was believed to contain the bodies of almost 100 Rohingya migrants. It cited an unidentified source.
The discovery comes amid an exodus of tens of thousands of Rohingya Muslims from majority-Buddhist Myanmar, where they are denied citizenship and have had their homes and businesses attacked. Myanmar, the country formerly known as Burma, has said it's making "serious efforts" to prevent illegal migration from its Rakhine state.
While asylum seekers are trying to reach Malaysia and Indonesia, a crackdown on overland smuggling rings by Thai authorities has forced them to travel by sea. Malaysia and Indonesia said last week that they will provide temporary shelter to thousands stranded on overcrowded boats.
Malaysia previously sent boats carrying Rohingya and Bangladeshis out of its waters after more than 1,000 undocumented migrants arrived on its shores this month.
The government in Myanmar has denied any conflict in Rakhine state, saying the issue is one of human trafficking.
Before it's here, it's on the Bloomberg Terminal.
LEARN MORE