Fed Shackles Carstens Even as Inflation Rate Sinks to 9-Year Low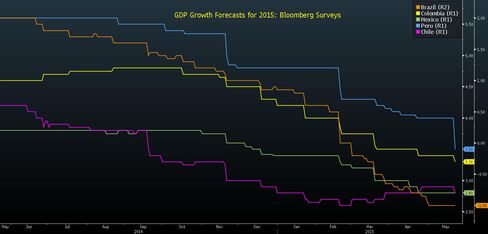 Mexico said Friday that inflation tumbled to a nine-year low. That news was easily overshadowed by U.S. Federal Reserve Chair Janet Yellen's comment that she still expects to raise interest rates this year.
The juxtaposition perfectly encapsulates Mexico's predicament.
While falling prices should give central bank Governor Agustin Carstens room to spur a sluggish economy by cutting borrowing costs, the prospect of higher U.S. rates has traders betting his next move actually will be to tighten policy. That's because Carstens is concerned a smaller rate advantage in the U.S. will cause investors to pull money out of Mexico. The gap between the countries' target rates is 2.75 percentage points, the narrowest since Mexico adopted a new benchmark in 2008.
"Monetary policy in Mexico will depend on monetary policy in the U.S.," Salvador Orozco, deputy director for fixed income at Grupo Financiero Santander Mexico, said by telephone from Mexico City.
One-year interest-rate swap contracts rose 0.05 percentage point to 3.73 percent Friday, indicating traders anticipate Banco de Mexico will raise its key rate a half-point from the current record low 3 percent in the next year. Swaps also show the central bank will probably begin raising rates in September or October.
Yellen Speaks
The annual inflation rate in Latin America's second-biggest economy fell to 2.93 percent in the first half of May, the lowest since late 2005. The central bank's goal is for price increases of 3 percent.
The report came three days after Banco de Mexico cut its 2015 growth forecast to between 2 percent and 3 percent from a previous estimated range of 2.5 percent to 3.5 percent.
The central bank kept borrowing rates unchanged at its last policy meeting on April 30, saying the economy continues to show weakness following a decline in oil output. Its next meeting is June 4.
"Our central scenario is to keep interest rates at these levels and most likely increase them based on the expectations for a normalization of monetary policy in the U.S.," Carstens said May 19.
'Initial Step'
At a speech in Providence, Rhode Island, Yellen said the Fed, which has kept its benchmark near zero since 2008, will raise rates this year if the U.S. economy meets her forecasts, with a gradual pace of tightening to follow.
"If the economy continues to improve as I expect, I think it will be appropriate at some point this year to take the initial step to raise the federal funds rate," she said May 22.
Mexico's peso was little changed at 15.2642 per U.S. dollar Monday as of 6:58 a.m. in New York.
Marco Oviedo, an economist at Barclays, said Friday that Mexico's central bank probably won't surprise analysts the way it did in June, when it last cut the benchmark rate.
"If the expectation of a rate hike in the U.S. were not present, we could start talking about a rate cut again," he said in a note. "The bank will likely remain on hold."
Before it's here, it's on the Bloomberg Terminal.
LEARN MORE