Back-to-Basics Investors Sour on Russia Banks as Bad Loans Jump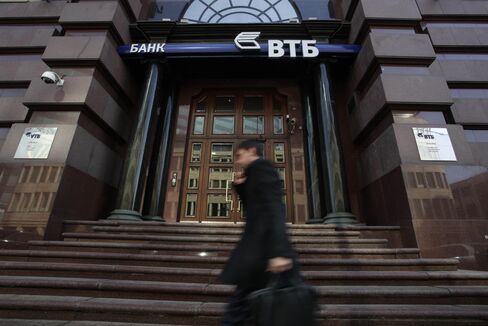 The rally in Russian banking bonds is stalling as investors return to the basics: bad debt and sanctions.
VTB Group's perpetual notes had their worst weekly drop since March as data last week showed the banking industry's non-performing loans reached a four-year high. VTB's bonds and 2023 debt from OAO Sberbank handed investors at least 46 percent returns since Jan. 29, the day before policy makers surprised markets with the first of three interest-rate cuts. That's more than twice the average gain for Russian companies in a Bloomberg bond index.
Sanctions imposed last summer blocking companies including VTB and Sberbank from global debt markets may stand in the way of further advances, according to GHP Group in Moscow, which is selling part of its bank debt holdings. While borrowing costs have fallen, they're still two-thirds higher than a year ago and bad loans aren't set to improve anytime soon amid a recession.
"The rally is mainly over now," Nadezhda Bozhenko, a debt analyst at UralSib Capital, said by phone on Thursday. "These bonds were oversold last year after sanctions were imposed and the ruble depreciated. Economic weakness won't allow them to rise further."
Yields on VTB's $2.25 billion of perpetual rose one basis point to 10.92 percent by 2:31 p.m. in Moscow after climbing seven basis points last week, and compared with a 2015 high of 16.12 percent. The notes handed investors returns of 51 percent since Jan. 29, in part as banks borrowed cheap foreign currency via the central bank's repurchase operations and reinvested them in higher-yielding Russian assets.
Sanctions Premium
Policy makers have since curtailed the supply of repos and increased their cost to make the so-called carry trade less appealing. Even after the rally, debt of Russia's second-biggest lender is trading at a 944 basis-point premium to Treasuries, compared with 700 basis points a year ago. The so-called Z-spread for Sberbank's $1 billion of 2023 notes is 528 basis points, up 146 basis points in the period.
The extra cost partly reflects deteriorating credit quality as sanctions following Russia's annexation of Crimea worsened an economic slump. VTB's non-performing loan ratio climbed to 6.4 percent in the first quarter from 5.8 percent at the end of 2014. The banking industry's retail bad-debt ratio increased to 7.1 percent by the end of April, according to central bank data.
Rate Cuts
"There's only room for future growth in bank Eurobonds if we expect the sanctions to be lifted sooner or later," Ivan Guminov, a money manager at Ronin Trust in Moscow, said by e-mail on Friday. "The biggest contribution of the spreads of now is the sanctions premium."
Banks will probably get some relief as slowing inflation opens the door for the Bank of Russia to cut borrowing costs further and support economic growth. Consumer price increases are set to slow "very quickly," Bank of Russia Deputy Governor Ksenia Yudaeva said in Astana, Kazakhstan, on Thursday.
Policy makers will lower the main interest rate to 10 percent by year-end from 12.5 percent now, according to median forecast compiled by Bloomberg, helping banks lower their cost of funding and boost margins.
Rate cuts "should be positive for Russian banks, including VTB," Tolu Alamutu, an analyst at Bank of America Corp. in London, said in a May 19 note, projecting 350 basis points of further easing this year.
Non-performing loans are set to peak toward the end of the year or the start of 2016, central bank Deputy Governor Vasily Pozdyshev said at regional banks conference in Moscow on Friday.
For Fedor Bizikov, who manages $1 billion for GHP Group, it's time to take profits with no relief from sanctions on the horizon. The European Union will assess its penalties at the end of July.
"Current spreads aren't taking into account the sanctions that still exist," Bizikov said by phone on May 21. "The rally has gone too far for the whole Russian bond universe."
Before it's here, it's on the Bloomberg Terminal.
LEARN MORE