Time Warner Cable Talks Pit Malone Against Protege Drahi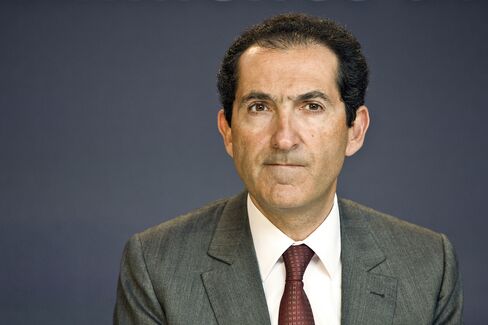 Merger talks over Time Warner Cable Inc. are pitting French-Israeli tycoon Patrick Drahi against his former boss: media mogul John Malone.
A bid for Time Warner Cable, the second-largest U.S. cable company with a market value of $48 billion, would be the boldest move yet for Drahi, just days after his Altice SA holding company made a surprise foray into the U.S. with the announcement of plans to buy a much smaller rival. It would also incite a billionaire tug of war on Malone's home turf. Malone's Charter Communications Inc. is also said to be pursuing Time Warner Cable -- for the second time in about a year.
Time Warner Cable's talks with Altice and Charter are expected to continue through the weekend, and an accord with either suitor could be reached as early as next week, according to people with knowledge of the matter. The negotiations may fall apart and there is no certainty a transaction will be agreed on, the people said.
Dealmaking is heating up in an industry facing waning demand for traditional pay-TV packages and intense competition from Netflix, Amazon and other online services. Charter, the fourth-largest cable provider in the U.S., is making another run at Time Warner Cable after its early 2014 bid was rejected and market leader Comcast Corp. swooped in with a competing offer. The Comcast deal collapsed last month because of regulatory opposition.
Considered Mentor
Drahi, 51, amassed a personal fortune of almost $22 billion -- more than double Malone's, according to the Bloomberg Billionaires Index -- by building one of Europe's most acquisitive telecommunications and cable businesses that stretch from Israel, France, Portugal to the Caribbean.
Seeking to extend his influence to the U.S. means Drahi has to compete with a rival he's so far viewed more as a mentor, according to a person with knowledge of the matter. The two businessmen know each other well and meet regularly, the person said, asking not to be identified discussing a private matter.
In the late 1990s, Drahi sold one of his companies to Malone and then worked for his UPC unit in Switzerland.
As the two billionaires later expanded their own empires, they have largely avoided going head-to-head with each other, and Malone has focused on markets such as Germany, the U.K. and the Netherlands.
'Aggressive Acquirer'
More recently, Altice and and Liberty Global Plc, Malone's European cable company, both looked at buying Royal KPN NV's Belgian carrier Base. Liberty's local unit agreed to acquire the asset last month for $1.4 billion.
"He's a growth guy," Malone told Bloomberg News on Tuesday, just before Altice surprised investors with its agreement to buy Suddenlink Communications, the seventh-largest U.S. cable provider, in a deal valued at $9.1 billion. "He's an acquirer, an aggressive acquirer taking advantage of low-cost debt right now and the ability to be pretty aggressive at cutting costs out of what he buys."
Altice Chief Executive Officer Dexter Goei last year described the company as "the Liberty Global of the smaller telecom opportunities." This week, Goei said Altice will be "right in the middle" of the wave of U.S. cable mergers and acquisitions.
Everything "below Comcast effectively is in consolidation mode," Goei said during a May 20 analyst call to discuss the Suddenlink purchase. Altice said it ultimately aims to have the U.S. contribute to half of the company's business.
'Left-Field Disruptor'
The takeover of Suddenlink -- which will be financed mostly using debt -- will lift Altice's U.S. revenue to about 12 percent of its total, according to Neil Campling, an analyst at Aviate Global in London, who called Drahi a "left-field disruptor."
"Drahi learned from the best oligopoly pioneer in the world," Campling said.
Time Warner Cable may fetch more than $54 billion in a sale, according to a person with knowledge of the matter. For Altice, which has a market value of $36 billion, financing a bid for New York-based Time Warner Cable could be more complicated than funding an offer for Suddenlink. Also, cross-borders deals don't offer as many cost-cutting opportunities as local ones.
'Hell Yes'
A spokesman for Time Warner Cable declined to comment, as did representatives for Charter and Altice.
Malone has a long history of disrupting the cable industry around the world. He turned Tele-Communications Inc. in the 1970s and 1980s into one of the biggest pay-TV companies in the U.S. before selling it to AT&T Inc. in 1999.
In Europe, Malone spent more than $50 billion over the past decade consolidating the media industry and building Liberty Global into one of the biggest international cable operators. Liberty Global acquired British broadband provider Virgin Media in 2013 and Ziggo NV in the Netherlands last year. More recently, it has gone after sports rights with several content deals and purchased a stake in U.K. commercial broadcaster ITV Plc.
In the U.S., Malone's influence over the Who's Who of the media industry has been wide-ranging. He controls companies including premium cable channel Starz and Sirius XM Holdings Inc., a satellite-radio company, and sits on the board of movie studio Lions Gate Entertainment Corp. He's known for engineering complicated tax-free spinoffs and financial arrangements that few can understand.
When asked in November whether Charter would attempt to buy Time Warner Cable if the Comcast deal failed, Malone said, "Hell yes." And as soon as the deal with Comcast evaporated, Charter immediately contacted Time Warner Cable about possibly renewing talks, people familiar with the matter have said.
"At first blush, Altice's interest in Time Warner Cable is bad news for Charter," Craig Moffett, an analyst at MoffettNathanson, wrote in a note Wednesday following first reports on a takeover bid by Altice. "If Altice can snatch away Time Warner Cable, Charter is left at the altar. Again."
Before it's here, it's on the Bloomberg Terminal.
LEARN MORE