Central Bankers Want Governments to Lend a Hand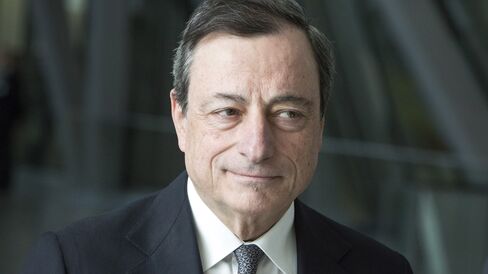 Three of the world's top central bankers used the stage of a monetary policy conference to defend their strategies and call on governments to do more to boost growth.
Haruhiko Kuroda, governor of the Bank of Japan, reiterated on Saturday that the effects of monetary easing are working through the economy and price trends are improving. Mario Draghi, president of the European Central Bank, urged governments to step up structural reforms. And Stanley Fischer, vice chairman of the Federal Reserve, defended stimulating the U.S. economy to counter low inflation.
The comments wrap up a two-day discussion on unemployment and inflation among policy makers and economists including Lawrence Summers and Olivier Blanchard at the ECB's second Forum on Central Banking in Sintra, Portugal. With interest rates close to zero in most major world economies, the focus has fallen on alternative means to rekindle growth and safeguard inflation.
Non-standard policy tools "are there when needed and they will be used when it's needed," Draghi said. At the same time, "there is not going to be any better moment for doing the right reform than now," he said.
Urging structural reforms to increase competitiveness in debt-strapped European countries has become a mantra for Draghi and his central banking peers, exposing them to criticism that they're not in a position to prescribe policies for governments.
"The ECB doesn't want to be intrusive, doesn't want to tell people exactly, governments, what do to, how to sequence, who does what and so on," Draghi said. "It's very much a policy appeal to action."
Job Losses
With potential growth -- the rate of expansion at which inflation ignites -- below 1 percent in the euro area, Draghi has said that structural unemployment risks being trapped above 10 percent. Almost 6 million jobs have been lost in the 19-nation region since the start of the financial crisis in 2008, according to ECB research.
Draghi reiterated on Saturday that a case can be made for fiscal policies that support growth, as he highlighted the risks related to keeping official interest rates close to zero. The ECB cut its benchmark rate to 0.05 percent in September and embarked on large-scale asset purchases in March.
"The possibility of high volatility in the asset market is quite significant" when interest rates will eventually be raised, Draghi said. Also, the consequences for savers "are very, very significant in the euro area," he said.
Deflation Ending?
In Japan, meanwhile, after 15 years of deflation, a combination of aggressive monetary easing, flexible fiscal spending and a restructuring of business rules, may be making an impact.
"We expect the inflation rate will start to accelerate in the second half of fiscal 2015 and we'll reach around 2 percent in or around the first half of fiscal 2016," Kuroda said, repeating the bank's forecast. Various economic statistics show Japan's underlying price dynamics are "quite robust," he said.
The BOJ kept its record monetary stimulus unchanged on Friday after the economy grew an annualized 2.4 percent in the first three months of 2015. Kuroda has said increased corporate profits, rising inflation expectations and gains in base wages are signs of a budding economy that's pulling out of decades of stagnation.
"In an indirect sense, monetary policy may also contribute, may help structural reforms be implemented vigorously," he said during Saturday's discussion.
Fischer said the Fed has accomplished its goal of reaching its "output target," while below-goal inflation signals the need to continue stimulus.
Output, Inflation
"It's sort of ironic that at the present we have an output target and we have an inflation target, which are supposed to be conflicting, but we're more or less there on the output target," he said. "We are not there on the inflation target, so that we have to put in a lot more steam."
For his part, Fischer gently poked Draghi for being relentless in his call for structural reforms.
"You can talk about it from time to time but you can't make it your main speaking point every time you speak to the public," said Fischer, who taught Draghi at the Massachusetts Institute of Technology in the 1970s.
Even so, Fischer didn't refrain from expressing desire for more U.S. government action.
"There is general agreement in the United States that public infrastructure could do with a lot of investment," he said. "There's nothing we can do about it, we would much prefer that there was an active public infrastructure investment program, but it isn't happening."
Before it's here, it's on the Bloomberg Terminal.
LEARN MORE